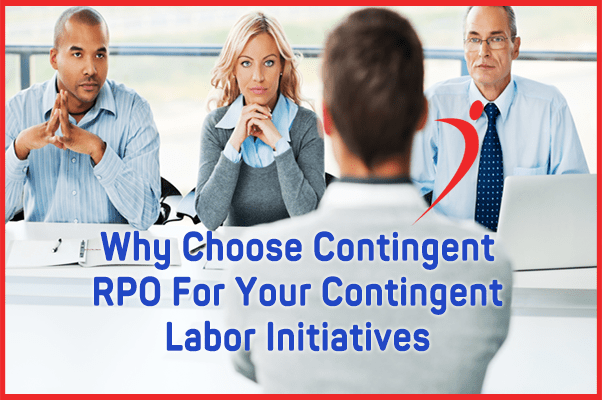 Whether you're a thriving startup or a well-established firm, you depend on recruiters to keep your company running. They help you find the engineers, coders, executive leadership, sales associates, team leaders, accountants, and other individuals you depend on every day. And they help you scale your team with contingent labor when you experience business growth.
That's why it's important to work with the best recruiters in the industry. Recruitment process outsourcing, also known as RPO, is the solution many companies turn to when they need to fill contingent positions. Here's why you should join them.
What Is Contingent RPO Anyway?
Let's start with a basic definition of RPO. RPO firms act as an extension of your recruiting department. They build services strategically around your needs, forming a partnership designed to strengthen your talent pipeline and retention rates over the long term. RPO isn't just about filling positions. It's also about the quality of hire. While you can count on faster time-to-fill with an RPO firm, you'll also experience higher candidate satisfaction, better cultural fit, and longer retention than you can expect with a traditional staffing agency.
Contingent RPO supplies contingent labor using recruiters dedicated to your company. Rather than competing with other vendors and pulling from the same candidate database for multiple clients (like traditional staffing agencies), contingent RPO builds a talent pipeline unique to your company. It's a lot like direct sourcing, except that the function has been outsourced rather than being handled by your internal team.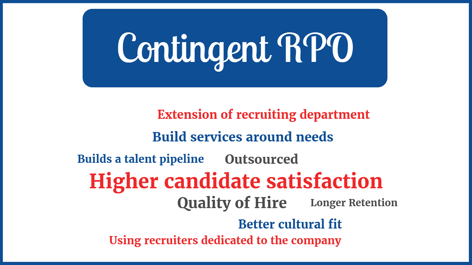 Why Should I Choose Contingent RPO Over a Staffing Agency?
That brings us to our next question: is contingent RPO better than a staffing agency? The honest answer is: it depends. Staffing agencies have their place, particularly if you want to hire just one or two employees quickly. But contingent RPO holds the high ground for strategic hiring.
Let's look at three reasons you should consider RPO companies for your next hiring initiative:
RPO Builds Proactive Relationships
RPO firms partner with you for the long haul. The goal isn't just to fill an immediate need; it's also to help you proactively create a talent plan that will help you grow your business. As your recruiting partner, the RPO provider will identify and fill gaps in your recruitment efforts, from evaluating your ATS to performing market analysis and ramping up your employer brand.
RPO Emphasizes Quality of Hire
When you work with a staffing agency, they send you the first person that comes along with the right credentials. There's no way to know if that person will be a good fit long term. RPO, by contrast, takes the time to get to know your company and your culture. Recruiters invest in finding the right fit for your team, improving both candidate and hiring manager satisfaction—along with your retention rates.
RPO Emphasizes Long-Term Hiring Strategies
A third reason you should choose contingent RPO is that an RPO firm will not only fill immediate needs, but also help you plan for the future. They will plan and implement strategic initiatives that target diversity candidates

,

college grads

,

veterans, or specific technical skills. They also screen for cultural fit, conduct skills tests, and perform assessments

designed to decrease turnover and identify high-potential candidates.
But What If I Just Want to Hire Somebody Quick?
Contingent RPO helps you source and screen the right candidates fast, and they do it at a lower cost-per-hire than other recruiting approaches. Once you've filled your positions, you own the candidate database and any associated data. Your data won't be shared with other clients or used to hire candidates for other companies.
Are there times when you should opt for a staffing agency? Yes—but it's important to remember that the goal of a staffing agency is to react to an immediate need by filling positions as fast as possible. And that will be reflected both in the price you pay and in the quality of the candidates.