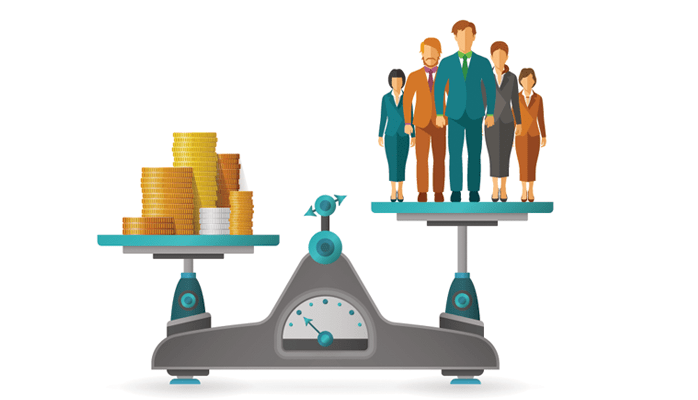 Is your recruiting department plagued by mushrooming hiring costs, poor retention, and inefficiency? You're not alone. Companies invest more than $4,000 per hire on average, with a good chunk of that spending resulting from inefficient hiring practices, outdated technology, and high turnover.
And that's why you need recruitment process outsourcing (RPO).
Recruitment process outsourcing (RPO) has captured the attention of companies around the globe for its efficiency, scalability, and cost-effective hiring strategies. In 2018, the RPO industry experienced a 20% year over year growth rate, largely due to advances in the North American market. RPO companies can help you overcome steep hiring costs.
That growth results from the evolution of business hiring needs in a growing economy. For many companies, winning the war for talent means updating old technology and processes, developing a more targeted passive candidate engagement strategy, building a stronger employer brand, and remaining competitive without sacrificing efficiency.
Despite RPO's impressive growth numbers, however, companies still want to know: Why RPO? Why invest in a total talent management solution rather than choosing a volume direct hire service or staffing agency?
RPO – Born to Stand Out in the Recruiting World
Filling seats isn't enough to move your business forward in today's competitive marketplace. Companies need to find quality, skilled candidates for unique roles to secure a competitive advantage. They're looking for recruitment providers who offer innovative solutions covering the spectrum from technology tools to employer branding—and they don't want to sacrifice efficiency or cost.
RPO steps into that need with process management services that include talent sourcing expertise, process consultation and management, candidate management, analytics, updated tools and strategies, and branding consultation.
While other service providers start and end with sourcing and screening candidates, RPO assumes the role of your recruiting department by managing end-to-end processes and advisory solutions.
And companies have started paying attention.
Why Businesses Rely on RPO for Exceptional Recruiting
RPO specializes in finding the right talent for your organization—the kind of talent that will move you to the top of your industry. That includes finding people with the right skills, while also assessing for cultural fit, engagement, productivity, and future potential. As more companies understand the value of this approach, they choose RPO for three primary reasons:
1. Increased Recruitment Efficiency
Quality of hire and time to hire still lead the discussion of key performance metrics for hiring. While companies want a broader range of services from their recruitment providers, they are not willing to sacrifice quality or efficiency to get there. RPO meets that expectation with deeper talent community tools that seek out and sort talent based on specific requirements. Updated technology tools, more efficient data mining strategies, and in-depth industry knowledge combine to deliver quality candidates as quickly as possible, without sacrificing the other services companies value.
2. Reduced Cost
Cost reductions will always be a strong driver of success for RPO. Each day a job remains unfilled, your company loses money in terms of employee productivity and recruitment costs. Inefficient hiring processes also result in lost revenue and more hours spent recruiting. And if you hire the wrong person? You'll spend thousands recruiting and training a replacement. By streamlining recruitment processes, reducing the time to hire, and increasing retention rates, RPO improves your return on investment and delivers the hard cost savings you need to boost your bottom line.
3. Scalable Recruiting Solutions
A recent study identified scalability and agility to meet business demands as one of the top drivers of RPO growth. As companies face the challenges of hiring specialized talent to accommodate growth, global expansion, seasonal hiring, and corporate initiatives, they need a recruiting solution that can scale up to meet the increase demands for quality talent. And they need to maintain high quality standards at the same time.
How RPO Can Revolutionize Your Hiring Department
Along with these three top priorities, companies also face the challenges of new technology needs, candidate engagement, targeted talent attraction, and workforce planning. Over 40% of RPO deals include a technology component, and RPO companies have started including a wide range of other services in their offerings as well to meet the demand for proactive, innovative recruitment. When you partner with an RPO provider, you also access:
Talent sourcing best practices and skills
Technology consultation and upgrades
Employer branding strategy
Passive candidate engagement
Analytics and reporting
Industry-specific hiring expertise
Specialized services like diversity and veteran recruiting
Contingent labor recruiting and management (also known as Contingent RPO)
As the needs of the workforce continue to evolve, RPO has evolved along with them. To meet the challenges of 21st-century hiring, providers have added niche expertise, internal efficiency strategies, and talent advisory solutions to their offerings.
Whether you're looking to supplement your workforce with specialized contingent labor skills or you need to build a better brand to engage passive candidates and new graduates, RPO will help you do it faster and more cost-effectively without sacrificing quality.