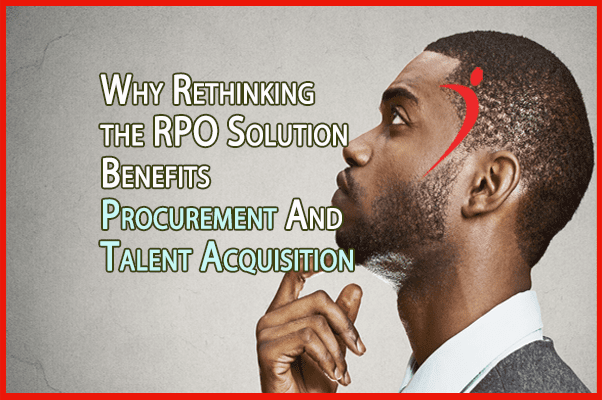 Quality vs. cost. It's an age-old tension. As companies increasingly rely on high-performing talent to reach organizational goals, the quality of that talent has emerged as a key success driver. But from a procurement standpoint, driving down costs typically takes top priority.
So what's to be done? How can procurement managers walk the tightrope between quality and cost, while still delivering the top-tier candidates needed to move the organization forward?
Enter RPO and RPO Companies...
What RPO Companies Bring to Your Recruitment Function
RPO changes the conversation around talent acquisition by serving as an extension of your internal recruitment or HR function. It's not just about filling positions. It's about establishing a recruiting partnership that offers your company specialized expertise and sharply honed processes. It's about moving past quality vs. cost to talk about value.
Let's look at six ways your organization benefits from RPO solutions:
Strategic Impact—RPO adds deep recruitment experience, extensive talent networks, and vital technology resources to your recruiting function. These assets help you reach critical talent more effectively while also developing recruitment strategies that have the greatest impact on your organization.
Candidate Sourcing—RPO can help you find candidates you wouldn't have had access to in other ways. Hard-to-fill roles often depend on hidden and passive candidates, and that's when you need the extensive networks, market intelligence, candidate databases, and customized sourcing strategies offered by RPO.
Partnership—RPO forges a partnership that drives ownership of both the process and outcome by working to understand your business and augment your internal team. This partnership comprises a unique working relationship that places your organizational culture and strategy at the center of the engagement.
Brand Management—Candidate experience is often the first touch point for your employer brand. Creating a candidate-centered approach to recruiting and retention builds positive brand value and can influence the success or failure of your recruitment processes.
Change Management—Poor change management practices can undermine any value you might receive from RPO, but experienced RPO firms have plenty of know-how to help companies avoid the potential pitfalls of operational change.
Reduced Hiring Costs—The true value of RPO lies in its ability to help you execute talent strategy. By creating value at every stage of the recruitment process, RPO can reduce costs across the entire hiring lifecycle, from candidate sourcing to retention.
Ask These Questions When Considering the Options
Evaluating the RPO solution takes more than a cost analysis. The key is to understand how cost and quality of talent work together to form the best value for your company and all the stakeholders. Here are some questions you can ask to assist the decision-making process:
Should we be outsourcing recruitment in the first place? RPO is an effective solution when you have hiring needs that can't be met by your internal recruitment team. That may be due to overwhelming need, a large hiring project, or ineffective processes. Whatever the case, be sure the solution supports your strategy.
What is the cost structure? If your goal is to reduce cost, then it's important to look at the total recruiting timeline to arrive at a true cost per hire. The RPO solution may include talent advisory services, branding consultations, executive search engagements, and many other services that can be customized to your need. And by extending average retention rates and boosting productivity, those quality hires may reduce your recruitment costs even further.
Who will coordinate with the RPO provider? Your internal team will still need to work closely with the provider to provide strategic direction, oversight, and final hiring decisions.
What happens when business conditions change? Business needs can change quickly, and that means you should be able to respond by ramping RPO services up or down with no penalties. Look for flexibility to alter the scope as needed.
What will you need for maximum ROI? In addition to cost, factors like cultural fit, industry experience, strategic insight, and available resources all influence the ultimate ROI you can expect. Consider all of these elements as you look at costs and benefits as well as individual RPO companies.
The tradeoff between the need to reduce cost and the need for talent quality doesn't have to derail your recruitment strategy. RPO gives you the resources and the expertise you need to achieve both goals with elegant simplicity.