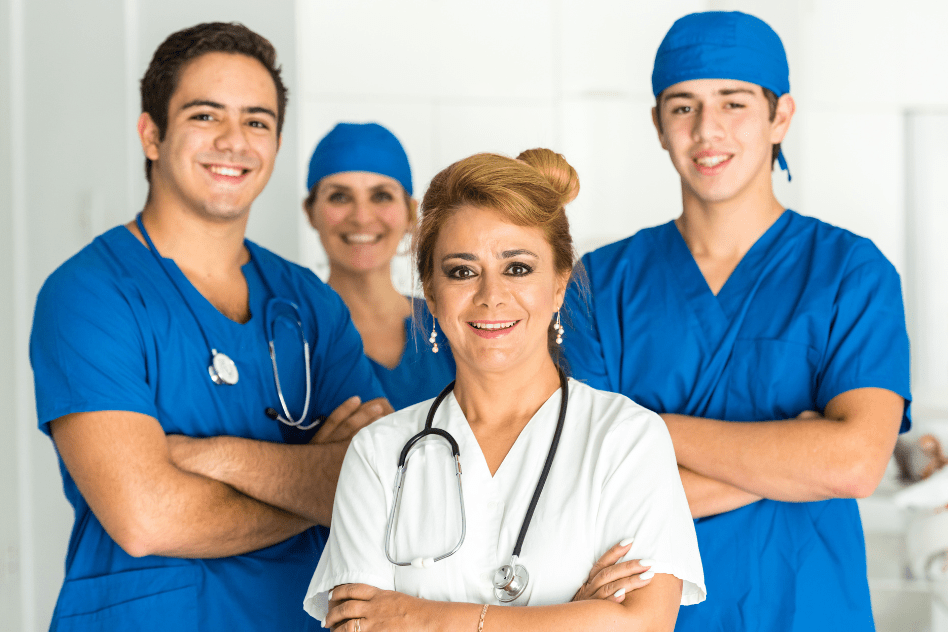 Let's face it: healthcare hiring trends show a shortage of skilled and highly qualified medical professionals. Because of this scarcity, it can be tough to find trained employees to fill the vacancies within your facility. If you want to lessen the stress on your already taxed HR team and increase employee retention, consider working with top healthcare recruiters to solve your hiring needs.
Outsourcing to healthcare recruiters can free up your HR team to focus on their core responsibilities while reducing turnover by placing professionals who are likely to thrive and stay. This is particularly critical in the medical field, where maintaining continuity of care and patient satisfaction is paramount. Now, let's dive deeper into how to identify and hire the best talent with the best healthcare recruiters.
How Top Healthcare Recruiters Identify and Hire Top-notch Talent
Unfilled roles mean your team is overworked and stretched thin. You need to fill these openings quickly. Working with a medical recruiting firm will drastically cut down the time your vacancies sit empty— this means your medical team can get back to providing the best care for their patients faster.
Here are five things top healthcare recruiters look for and do to identify and hire the best talent.
1. Write Clear Job Advertisements
There is nothing worse than a vague job description. It attracts unqualified applicants, meaning more time is spent filtering through skilled and unskilled candidates. One of the things the best medical recruiter will do to spark interest in your vacancies is writing clear, concise job advertisements. They will spend time asking questions about the various positions in your facility and tailor each job description to accurately represent the open role, including the necessary skills required to perform the job well.
2. Open Communication
Job seekers appreciate open communication when applying to new roles. Nerves and the need to hear about the position can be high. Top healthcare recruiters understand this, so they do their best to keep an open line of communication with applicants. Healthcare headhunters will engage candidates throughout the application process, from reaching out before or after the application is submitted to communicating with recruits about their application status. An open line of communication will keep job hunters interested in working in your healthcare facility.
3. Optimize Social Media
In the age of social media, it's beneficial, even necessary, to leverage your social channels in healthcare recruiting. Top healthcare recruiters can help you identify target audiences. They will use social media tools, such as paid advertising, to put your job listings in front of qualified candidates. It also creates a broader net for finding skilled employees.
4. Extensive Network of Medical Professionals
The best recruiters understand the constant need to continue education in the medical industry. It's why healthcare recruiters attend medical conferences and network with medical professionals. They're also more likely connected with various top talent and will draw upon their connections to recruit for your vacancies.
5. Identify Differences, Experiences, and Skills
Patient care is not always a cookie-cutter experience. A treatment that works well for one patient may not work well for the next. Therefore, building a team of medical professionals with diverse backgrounds, differences, and skills is essential. These experiences and differences will help staff members connect better with their patients and create a well-rounded, more caring team. You can expect top healthcare recruiting firms to evaluate each candidate and review their skills thoroughly to make your team the best medical team they can be.
Work with Top Healthcare Recruiters
Although there is a crisis in the healthcare industry due to retention and the need for more qualified medical staff, you can ensure your facility acquires the best talent by working with a top healthcare recruiter. They can help write job descriptions, tap into their existing network of professionals, and evaluate a candidate's skills and abilities.
At Hire Velocity, we understand the importance of acquiring top talent. We are ready to partner with you to boost your talent acquisition strategy and create a team of committed medical professionals. Contact us today to learn more.