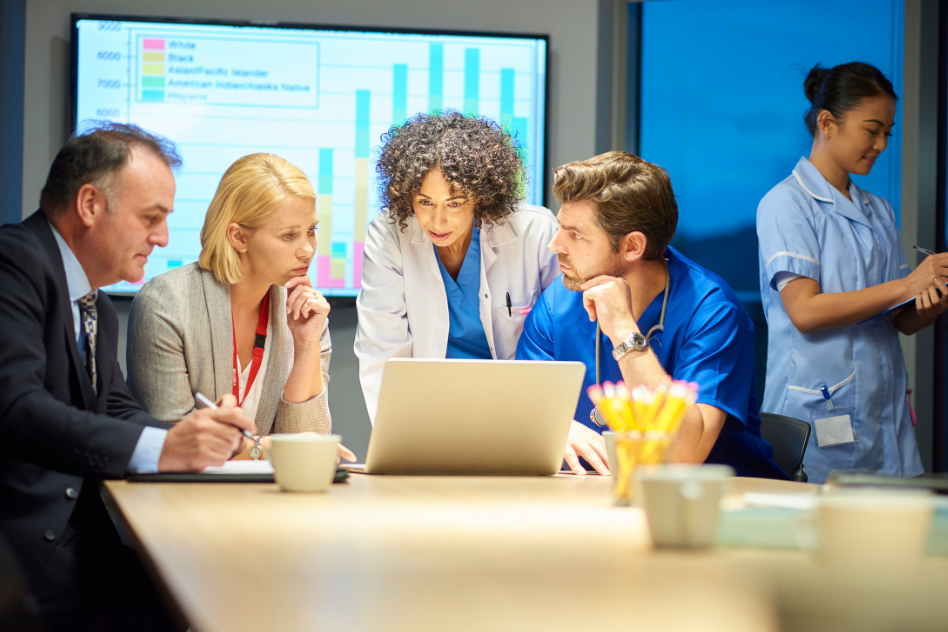 In today's competitive labor market, healthcare recruitment services have become essential to help overcome the challenges of medical recruiting. Factor in the nursing shortage, and it's the perfect recipe for disaster— or at least a nightmare for your human resources department.
But it doesn't have to be that way. For the best talent acquisition outcomes, consider working with a healthcare recruitment team.
Pros of Using Healthcare Recruitment Services
Save your human resources department a headache and work with a healthcare recruitment firm. Your facility can benefit from healthcare recruitment services in many ways.
Here are six reasons to consider working with a firm specializing in healthcare recruiting:
1. Large Talent Pool
Healthcare recruitment services are well-connected with medical professionals looking for new roles. Not only do recruiting firms keep a roster of prospects, but they also maintain strong relationships with healthcare professionals. As a result, you can expect your healthcare recruiting firm to have access to an extensive network of qualified and excited prospects.
2. Best Talent
You know the open positions within your medical facility are highly specialized. It can be tough hiring the best person for these roles, especially if your current applicant pool lacks critical skills. Using healthcare recruiters is a guarantee of attracting the best, most savvy talent for your vacancies. Aside from being connected to an extensive network of talent, healthcare recruiting firms understand the qualifications and specialized skills a medical professional should possess to care for the patients in your facility correctly.
3. Save Time and Money
Leaving the task of acquiring new talent for your medical facility solely to your HR department can slow down your hiring efforts. Yes, your HR department can find top talent for your roles, but they also need to focus on other items, such as onboarding new employees and other administrative work. However, healthcare recruiters concentrate on one task– finding the highest quality medical professionals for your facilities.
4. Role Flexibility
Some roles within the medical field require a certain degree of flexibility regarding the schedule. For instance, you may need to hire a full-time nurse for a floor position in a hospital and a part-time nurse for the operating room. Finding skilled nurses willing to work various schedules can be challenging. The benefit of working with a medical recruiting service is that healthcare headhunters are connected with many medical job hunters looking for different working schedules. Your recruiter knows where to find skilled candidates, so you can rest assured your open positions will be filled with the best people.
5. Less Training
With healthcare recruitment services working alongside you, your new hires will require less upfront training. A medical recruiter will communicate with your new hires to explain important housekeeping details. Your recruiter can help ensure your new hire completes essential paperwork, like payroll information, issuing work ID badges, explaining where to park, and so much more. This means your new hire is ready to hit the ground running on their first day on the job.
6. Better Retention
Highly qualified and skilled candidates are less likely to quit their roles than candidates whose skill levels don't match their positions. Healthcare recruitment services help you develop a strategic and targeted approach to hiring top talent, increasing the likelihood that you're employees will stick around for the long term. When your employees are matched with roles they enjoy, you can expect to create a committed and skilled medical team.
A healthcare recruitment firm is more than just your talent acquisition partner—they'll save you time and provide your organization with the top resources to choose the most qualified candidates for your medical team.
At Hire Velocity, we understand the importance of hiring qualified medical staff. We also understand the challenges of hiring in a competitive labor market. No matter the role, we can partner with you to optimize your talent acquisition strategy. Contact us today to learn more.