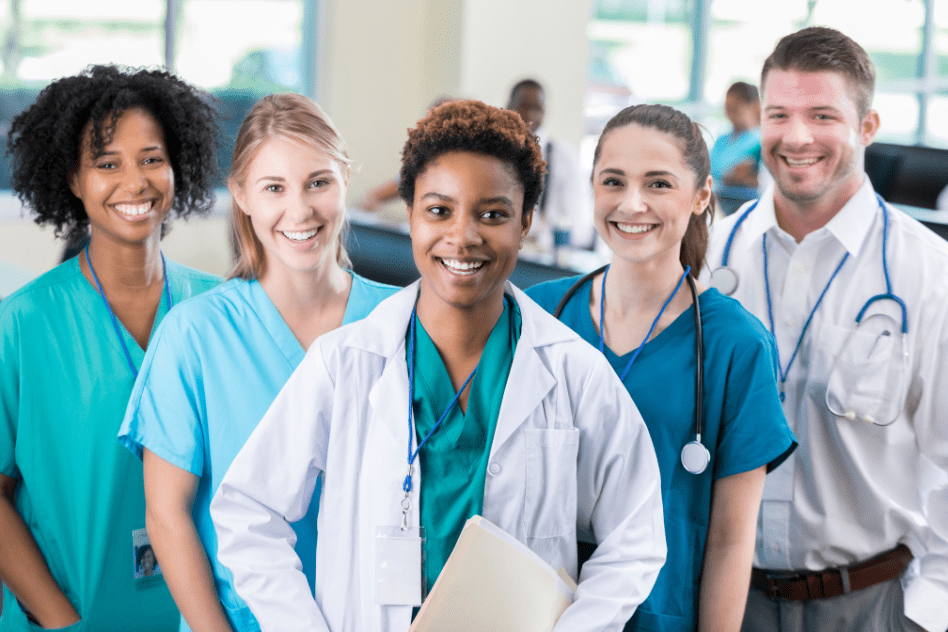 Your patients rely on you to provide them with quality healthcare from the best and most qualified medical professionals. But, sometimes, finding those talented team members can be tricky. Rather than recruiting on your own, hiring a healthcare recruiting agency is often the best option. But with so many recruitment agencies healthcare focused to choose from, how can you be sure you're selecting the right one for your needs?
It all starts with knowing what services you need. In this article, we'll guide you through the critical factors to consider when selecting a healthcare recruitment agency.
Why Work with Recruitment Agencies with Healthcare Experience?
Open positions at your organization can lead to costly gaps in service and patient care if left unfilled for too long. Recruitment agencies with healthcare experience have the resources to identify top talent quickly and effectively, so your vacancies are filled with minimal disruption to your day-to-day operations. A few other reasons healthcare facilities choose to work with specialized healthcare recruiters are:
Recruitment agencies in healthcare can provide access to a larger pool of qualified candidates than internal hiring teams.

Medical recruiters understand the specific hiring challenges and needs of hospitals, medical practices, and other healthcare facilities.

Working with an agency can free up your internal resources for other HR initiatives that may be pressing to your operations and business goals.
How to Choose the Right Healthcare Recruitment Agency
As an extension of your team, you want to be sure that the agency has the right resources, processes, and personnel to meet your hiring needs. Here are several essential factors to consider.
Identify Your Staffing Needs
Outline what roles you need to fill immediately and your hiring goals. These positions may include permanent roles, temporary cover, contingent staffing, or flexible jobs. You might need nurses with technical skills, administrative staff, or an entire team to fill a new department.
Don't contact healthcare recruiting firms without first doing an internal audit of your staffing needs. Clarifying your staffing needs will help you define what type of healthcare recruitment agency is best qualified to help you achieve your goals.
Investigate Their Track Record
The proof of good recruitment agencies in healthcare hiring is seen in their track record. It's a valuable indicator that they know how to source the right candidates, vet them thoroughly, and present you with the most qualified options.
Factors you should evaluate when assessing a recruitment team's track record include:
Client reviews

and testimonials

Length of time operating in the healthcare sector

Number of successful placements for medical roles

Retention rates of placed candidates
Be wary of agencies that promise quick fixes without a substantial track record to back up their claims. Ultimately, you're looking for data that supports that a recruiter is experienced in finding and placing healthcare professionals.
Evaluate the Recruitment Process
Recruitment agencies in the healthcare field all have their own unique way of sourcing and recruiting talent. Some agencies lean heavily on tech and data-driven models for matching candidates to job openings, while others use more traditional recruitment methods, such as phone calls and headhunting.
When considering a medical recruitment firm, ask questions about how they source candidates and evaluate them for roles. Ask to see the steps they take in their screening process and if they have any tools in place to help them identify the best candidates. You want to select a firm that is a good match with your own hiring processes and values.
Assess the Communication Methods
It's generally accepted that open, honest, and transparent communication is central to a successful recruitment partnership. If a recruitment agency strongly emphasizes how they'll communicate results to you and when—that's a good sign for a positive relationship.
When interviewing a medical recruiter, ask detailed questions about how they'll communicate with you—is it a monthly Zoom call? Weekly emails? Or an app?
You want to hire an agency that keeps you informed about their progress, challenges, and any changes in their strategy. Make sure you're comfortable with their preferred method of communication, and if you're not, say so. Don't let them dedicate resources to a communication process that won't work for you.
Recruitment Agencies Healthcare: The Importance of Expertise
Selecting the right recruitment agency can make the difference between simply filling a vacancy and finding the best candidate to bring innovative ideas and energy to the role and your team.
At Hire Velocity, we create custom RPO and executive search solutions to recruit pharmacists, nurses, medical technicians, physician assistants, and other health professionals, and we make sure every candidate is a great fit for your organization. Contact us today to learn more.