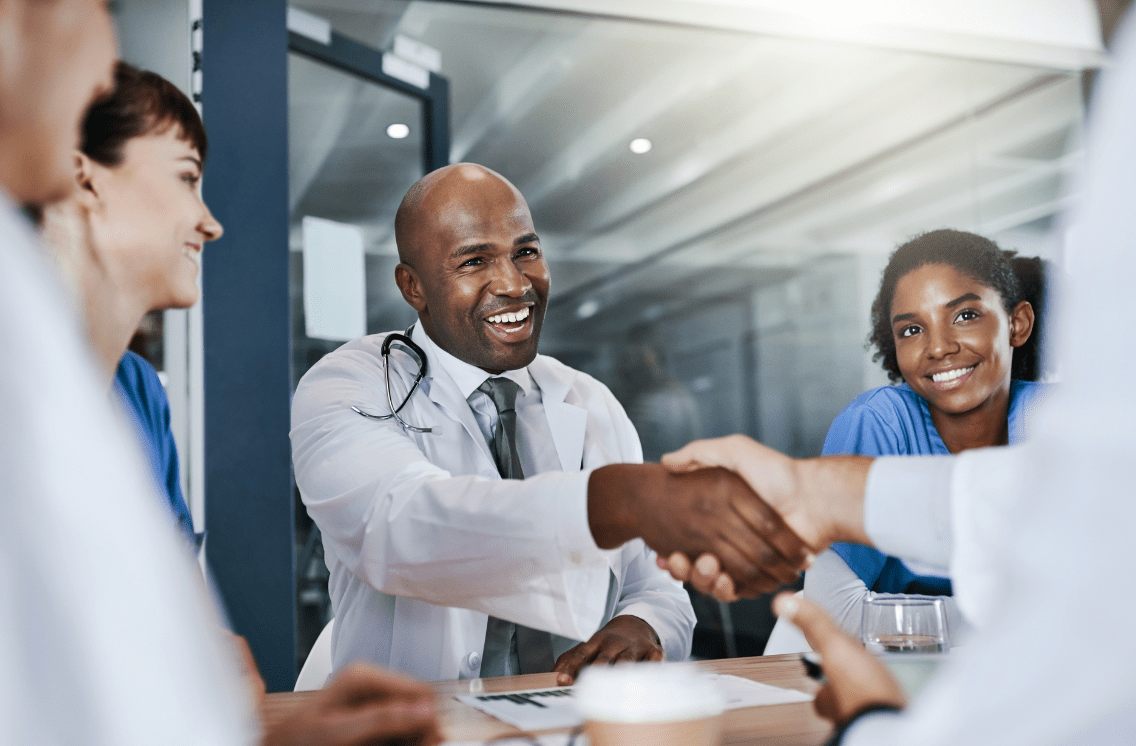 As healthcare professionals worldwide worked fearlessly to provide necessary care during the COVID-19 pandemic, leaders in talent management were fighting a separate battle—solving the challenges surrounding medical recruitment.
Even before the pandemic, the medical recruitment landscape was changing, with the healthcare field experiencing a talent shortage. As many frontline healthcare workers and medical professionals dealt with burnout due to COVID-19, medical recruitment practices adapted to quickly meet the intense demand for medical personnel. Let's take at some of the ways medical recruitment has changed post-pandemic.
Virtual Recruiting
Traditional healthcare recruitment has long been known for its multi-step and time-consuming process. Depending on the role recruiters were trying to fill, healthcare recruitment often included:
Multiple rounds of interviews.

Various levels of screening.

Lengthy credential checks.
However, due to the pandemic and social distancing, medical recruitment took a digital turn, and the healthcare industry had to adjust rapidly to virtual recruitment.
Healthcare organizations have now modified their talent acquisition process to include online interviews and virtual onboarding. One of the key benefits of virtual recruiting is that healthcare organizations can now expand their talent pool to attract healthcare professionals from all over the world. It's much easier now to cast a wider net for medical personnel, allowing employers to save time and money by reducing the travel costs of traditional interviews.
Talent Shortage
It's estimated that there will be a shortage of 10 million healthcare workers worldwide by 2030. As medical recruiters strive to fill positions, it's evident that the talent shortage is a significant concern. And the pandemic has only made this shortage more acutely felt, leaving healthcare organizations to focus on finding new ways to attract top talent. A few of these techniques include:
Flexible schedules or remote work opportunities.

Creating a positive and diverse workplace culture.

Competitive benefits packages.

Training and professional development programs.
Retention and recruitment are intrinsically linked. Organizations that invest in employee engagement and wellness can keep medical professionals invested and inspired. So, as the healthcare industry confronts the talent shortage, it must also look for new ways to retain employees.
Healthcare Worker Burnout
The pandemic has led to increased stress levels among healthcare staff due to long hours and difficult conditions caused by overcrowded hospitals and dwindling supplies of personal protective equipment (PPE). While supply shortages have normalized post-pandemic, medical professionals still feel the effects of burnout and budgetary restrictions. A current study shows that up to 47% of healthcare workers plan to leave their positions by 2025, citing burnout as a major factor.
For medical recruitment, this means that organizations must focus on offering competitive benefits that support a healthy work-life balance for medical teams. These can include flexible scheduling, mental health support, employee assistance programs, and an emphasis on career development opportunities. When recruitment teams focus on long-term employee retention, worker burnout prevention strategies must be a top priority.
Focus On Employer Branding for Medical Recruitment
Medical recruitment now relies on employer branding more than ever before. After years of working remotely, job seekers in the healthcare industry now anticipate digital-first recruiting methods when they apply for roles. Today's job candidates want to work for companies that best align with their values or goals. Medical organizations that can successfully showcase their mission, core values, and perks will have an edge when recruiting. Building a strong employer brand is an omnichannel process that involves leveraging:
Website content and design.

Career page optimization.

Social media campaigns.

Advertising and marketing initiatives.
Healthcare organizations shouldn't underestimate the power of employer branding for medical recruitment. Creating an attractive and consistent brand is essential to healthcare recruiting post-pandemic, as job seekers now expect a higher level of transparency from medical organizations.
Wrap-Up
The unexpected healthcare hiring challenges brought on by COVID-19 have led medical organizations to be creative and resilient in their recruitment strategies. Instead of relying on only traditional recruitment methods, medical recruiters are embracing digital solutions and adopting new technologies to remain competitive in an evolving medical recruitment landscape.
At Hire Velocity, we understand the vital importance of developing talent acquisition solutions that align with your corporate values and strategy in order to attract quality people to your organization. We partner with you to develop comprehensive, scalable workforce strategies based on industry best practices optimized for competitive advantage.
Contact us to learn more about our health recruiting solutions.