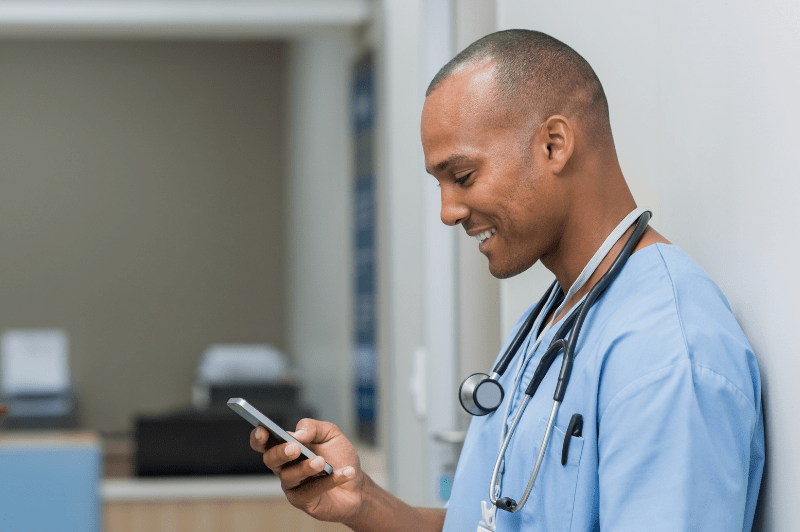 Over the past decade, healthcare recruiting has become a crowded and competitive market. With healthcare employment expected to grow dramatically over the next decade, recruiters face the challenges of marketing, finding, and recruiting qualified medical staff promptly. Text messaging has evolved as an innovative way to streamline and speed up the healthcare recruiting process.
Digital Tech To Help You Connect With Candidates
Digital technology has changed the hiring landscape for recruiters, making the hiring process faster and leaner. Smartphones have made it even easier for job seekers to access new job opportunities and for recruiters to connect with them. While only 20-30% of emails are opened, SMS had an open rate of 98%. Texting is a quick and convenient way for recruiters to meet job candidates where they are, on their phones.
Increase Productivity With Automation
Individual texts messages on a personal smartphone can overwhelm any recruiter. Save time by investing in a recruitment platform to handle the high volume of texts and track data to ensure your texts are influential.
Alert Candidates of New Healthcare Job Openings
Traditional healthcare recruitment can be a slow process involving reaching out to prospects with an email or phone call and waiting for them to call back. A busy healthcare professional may not be able to follow up quickly. Texting instantly connects recruiters with candidates to alert them of new job openings. Potential candidates can respond in less than 60 seconds to speed up the healthcare recruitment process and save valuable time.
Coordinate Interviews and Send Reminders
Scheduling interviews through phone calls and emails can be cumbersome. Texting is an easier way to coordinate the next steps through the recruitment process and can speed the healthcare recruiting process with instant communication. Quick text reminders can prevent interview delays and provide a space for candidates to answer preliminary questions beforehand.
Get To Know Candidates Better
Text messages speed up the healthcare recruiting process and provide hiring managers a convenient way to get to know potential candidates before the interview. Texts can show a lot about a person's character, behavior, and professionalism. You want healthcare staff who will provide a high-quality patient experience, and texting can quickly determine if a candidate will fit into your organization's culture.
Don't Fall Behind
The current healthcare system is rapidly changing, with healthcare providers competing for the same exceptional candidates. Text messaging is proving to be an innovative method for hiring managers and recruiters to meet these challenges by simplifying processes while reducing costs.
Interested in learning more about how you can recruit, hire, and onboard healthcare staff quickly?
Contact us today to learn how Hire Velocity can help your organization optimize your healthcare recruiting strategy, from entry-level roles to the C-suite.