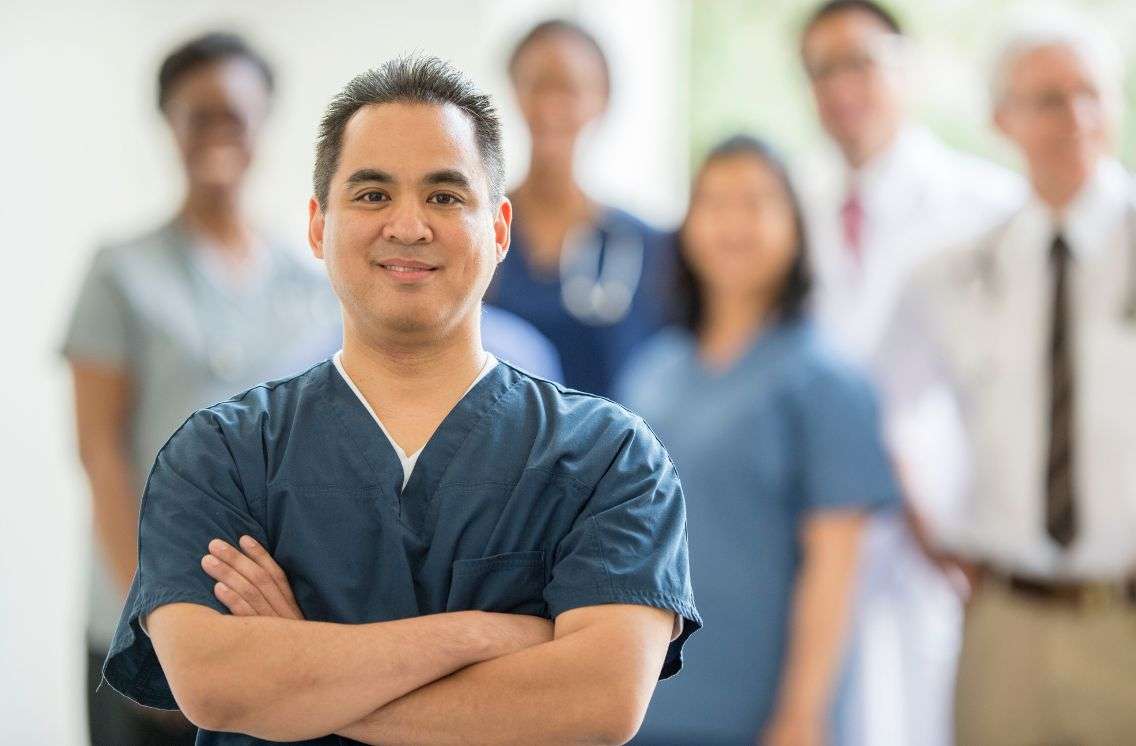 In the wake of a nursing shortage, finding qualified talent to fill your open roles can be challenging. As the nurse shortage continues, nurse recruiting will continue to be a competitive race for talent. Consider partnering with a nursing recruitment agency to get ahead and fill your open nursing positions.
When you work with a nursing recruitment agency, you can rest assured you're hiring the most qualified talent to care for your patients. Nursing recruiters are skilled in finding top-tier nurses and matching them with your organization's needs. Let's dive into why outsourcing recruitment to a firm might be the best option for hiring for your team.
5 Advantages of Partnering with a Nursing Recruitment Agency
Aside from quickly filling your open roles, there are several more benefits to working with a nursing recruitment agency to attract and hire talent.
1. Boost Your Employer Brand
Before nursing candidates decide to apply to join your team, they'll hit the web and research everything there is to know about your company and what it's like to work at your facility. Your organization's brand is a message to potential candidates before they even decide to apply for your open positions. This same message should be clear in every job listing you post. Your nursing recruiter can help you write a job description that accurately reflects your company's values, mission, and goals.
Is your medical practice known for high-end medical devices with the best technology on the market? Is your hospital known for helping kids and their families? Is your brand known for being employee-focused with competitive benefits? The answers to these questions can help your medical recruiter persuade prospective nurses that working at your organization is a fantastic opportunity.
2. Attract Top Talent By Highlighting Your Benefits
While employee compensation is a major factor in choosing one healthcare organization over another, nurses are also interested in the benefits they'll receive. Your nursing recruiter will also be able to help you articulate the benefits you offer and discuss how they stack up against competitors.
While typical benefits are related to paid time off and retirement savings plans, some innovative and attractive benefits you might consider offering to your nurses might be:
Continuing education programs

Childcare options

Tuition reimbursement

Health plans, including discounts to local gyms

Flexible shifts
3. Offer Sign-On Bonuses
To entice nurses to apply for your open positions, your nursing recruitment agency might suggest that you consider offering sign-on bonuses. Sign-on bonuses are a great way to garner the attention of skilled nurses and retain employees. However, you must match an excellent sign-on bonus with additional benefits. If not, you risk turning away a potential hire. Your nursing recruiter can help you determine the best sign-on bonus to offer and if it could be paired with a referral bonus program for current staff.
4. Create Mentoring Programs
One of the reasons there is a nursing shortage is the need for more skilled employees. A mentoring program is a unique opportunity to train new nurses and build relationships with your experienced nursing staff. For example, if the vacant positions require specialized skills, your nursing recruiter can help you find talent who are ready and eager to learn and pair the new hires with veteran nurses to help train the new nurses on your floor.
If you're worried top talent will be uneasy about applying for a position they might not be fully qualified for, your nursing recruitment agency can help advertise your mentorship program in your job advertisements.
5. Partner with Local Nursing Schools
As the nursing shortage is expected to spread across the U.S. by 2030, leveraging budding nursing talent may be a way to stay ahead of competitors. If your hospital or office doesn't already have a partnership with the school to offer internships, don't worry. There are other ways you can advertise your vacancies to these students. Your medical recruiting team can work with you to host a local school or university job fair at your facility. This event is the perfect place for your recruiter to talk to interested candidates and create a pool of qualified talent for your positions. Some recruiters may even conduct initial interviews on the spot, too.
Work With an Experienced Nursing Recruitment Agency
Deciding to partner with a nursing recruitment agency is one of the best decisions you can make for the direction of your healthcare organization. At Hire Velocity, we understand the unique and sometimes frustrating challenges the medical field faces when hiring skilled talent. No matter the types of nursing recruits you need, we can help you build a solid talent acquisition strategy.
Contact us to learn more about our healthcare recruiting strategies.