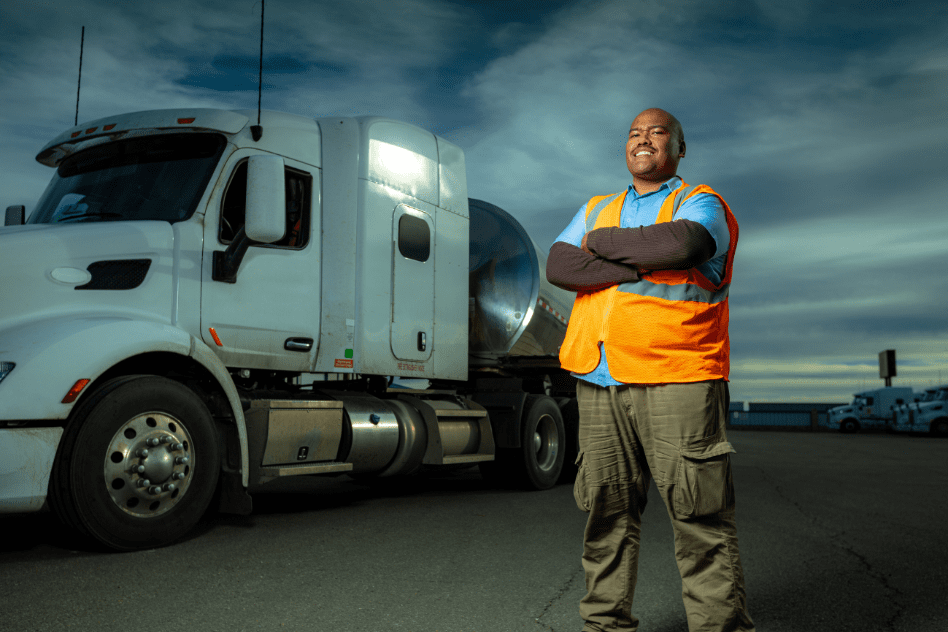 It's no secret that truck driver recruitment is hitting a bit of a wall. The industry is aging, turnover is high, and a less-than-positive image of the truck driving career can make it even more challenging to attract the right people. However, it's not all doom and gloom—with innovations come new opportunities. Let's look at some of the challenges truck driver recruiters face and the opportunities they can take advantage of to attract new faces to the truck driving career.
Challenges in Truck Driver Recruitment
The American Trucking Association reports that driver shortage is at an all-time high. From all directions, truck driver recruitment teams are encountering difficulties. Here are a few that stand out.
A steadily aging workforce.
The baby boomer generation is retiring, but fewer young drivers are trained to replace them. Some studies show that the average age of today's truck drivers is around 56 years old. Today's truck-driving workforce needs to be rejuvenated with young, eager truckers. The question is, how can the trucking industry attract and get the attention of young talent?
The trucking industry sees high turnover rates.
Turnover rates in the trucking industry can be a tricky subject to understand. Some experts report turnover for large truckload carriers to be around 90 percent. Drivers constantly switch companies for better pay, benefits, or career opportunities. However, this leaves trucking companies encountering the costly effects of turnover, leading to increased training expenses, lost productivity, and decreased morale.
Trucking does not always have a positive image.
Truck driving isn't exactly known as a glamorous job. For generations, truckers have been seen as gruff, independent loners who spend days cruising long stretches of highway. Even today, many people have a misguided perception that truck driving is low-skilled, low-paying, and always requires long hours on the road. This poor image of trucking has led to truck driving being overlooked by college students and young job seekers.
Opportunities for the future of truck driver recruiting
When you look at the trucking industry's challenges, it can be easy to get discouraged. However, truck drivers are needed more than ever—so there must be a way to attract new truckers. Here are a few opportunities truck driver recruiters should consider.
Use technology to connect to a new generation of truck drivers.
Today's technology has the potential to revolutionize the trucking industry. From trucking apps that enable truckers to plan their routes to virtual reality simulations to train new drivers, trucking companies that adopt and highlight their use of technology can showcase their company as cutting-edge. Innovation can open the door to a new generation of truckers and make trucking a hopeful and exciting career option.
Offer attractive compensation and benefits.
Higher pay and better benefits can go a long way in truck driver recruiting. Use a recruitment process outsourcing firm to do competitive research on truck driver salaries, and consider offering bonuses to new or returning truckers. Consider flexible scheduling and other unique benefits to recruit truckers, such as pet-friendly truck cabins or offering fuel discounts.
Adopt employer branding to showcase the advantages of being a trucker.
Social media has made it easy to develop a distinct employer brand and spread the word about your company. Use social media and your website to your advantage—create videos, infographics, and articles highlighting your drivers' stories and what makes trucking a great profession. Showcase the trucking lifestyle and give job prospects a behind-the-scenes look at what the procession looks like.
The Future of Truck Driver Recruitment
The truck driver shortage is not a problem to be taken lightly—the trucking industry needs truckers now more than ever. But there are also opportunities out there for those willing to innovate and leverage technology to reach new talent.
At Hire Velocity, we are experts in recruiting truck drivers. As experienced recruitment professionals in the logistics and transportation industry, we understand your company's struggles and are excited to provide customized recruitment solutions that can help you reach your goals. Reach out today to get the conversation rolling.