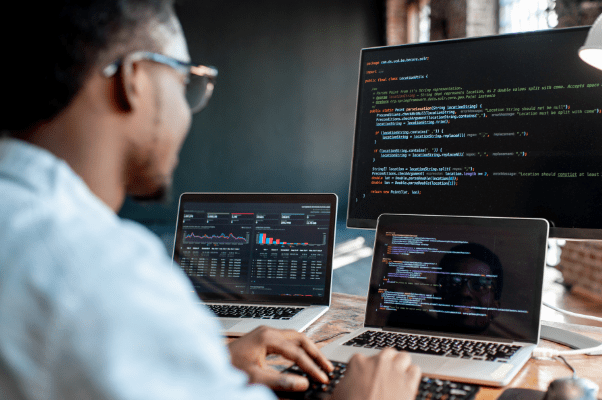 We live in a world where technology is advancing at an exponential rate. The American workplace is changing rapidly, and too many organizations underestimate the growing need for IT professionals to keep up. For example, the number of U.S. job postings for AI professionals nearly doubled over the past year. As IT recruitment and hiring expand, the skillsets that will be in high demand over the coming years will be heavily influenced by innovations that have taken place.
The most in-demand skillsets are Computer Programming, Software Development, and Cyber Security.
Computer Programming
Computer programming, also known as "coding," is the process of designing, writing, testing, and maintaining the source code of computer programs. It is one of the most highly sought-after skills in the IT recruitment market. There are different computer programming languages like Java, C++, HTML, etc.
The need for programmers will only grow in years to come because of a shortage of qualified candidates. The demand for developers has increased tremendously over the past few years due to a rise in demand from startups and more companies going digital.
Software Development
Software engineers hold a vital position in the IT world because they are the ones who create platforms for future generations of technology. Computer software has become an integral part of our lives, so software development skills are crucial.
Software developers and engineers design, analyze, and build software products and applications. They are expected to be proficient in core programming skills like algorithmic thinking, data structures, and computer science theory.
Cyber Security
Cyber security also referred to as IT security, is the protection of company or personal data. This includes protecting the hardware (e.g., computers) and software (e.g., databases) that store your data from malicious threats like hacking, phishing, and malware attacks. Cyber security professionals are always in demand for their skills. A cyber security specialist has extensive knowledge about IT infrastructure and can develop strategies to combat cyberattacks.
Why Your Organization Should be Investing Before It's Too Late
The workforce needs are changing rapidly, and the skillsets that are in demand are constantly shifting. Machine learning, automation, and artificial intelligence are increasingly becoming more common in the workplace. Organizations that do not invest early will be losing as they will not have enough time to prepare for this change.
Organizations need to be on top of these changes because without investing now, they will be left behind.
At Hire Velocity, we understand the vital importance of developing talent acquisition solutions that align with your corporate values and strategy to attract quality people to your organization. We partner with you to create comprehensive, scalable workforce strategies based on industry best practices optimized for competitive advantage. Contact us today to learn more.