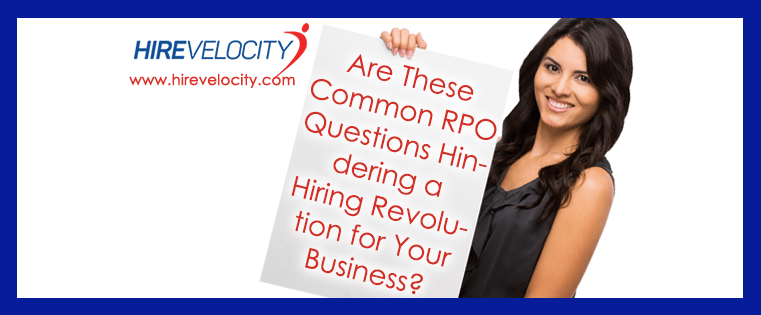 Recruitment process outsourcing (RPO) is still a fairly new concept for many businesses. As with any new approach, questions about how your business will be affected can present looming obstacles to taking that next step. If you have considered RPO as a solution to your hiring needs but you're concerned about the ramifications for your business, let us help you put those concerns to rest. Take a look at our answers to five of the most common questions we receive about RPO solutions.
Will I retain control over hiring decisions?
Yes. RPO companies like Hire Velocity have built their reputations on delivering custom solutions designed to adapt to your current business practice. Your RPO partner will source, screen, and deliver qualified candidates for each opening, but you make the final decision about which people to bring on board.
Is my business too small to benefit from RPO?
If you need quality candidates to facilitate business growth, RPO can help you. Quality people can make the difference between success and failure for a business, which means that finding top-tier candidates is important no matter how large or small your company is. RPO solutions can be scaled according to your specific needs and customized to fit your parameters and budget. Whether you need 10 people or 10,000, RPO can deliver the best candidates for the job.
Can I customize RPO solutions for my needs?
Yes. Whether you need a candidate short list, a diversity recruiting or contract recruiting campaign, or a comprehensive recruiting strategy, your RPO partner can design a solution that will promote your best interests without squeezing you into a one-size-fits-all hiring approach. They can also work with your current applicant tracking system or use their own technology to deliver the results you're looking for.
Is RPO worth the cost?
RPO consistently reduces cost-per-hire and decreases time to fill for each open position, meaning that clients will see a reduction in hiring costs both in the short and long term. Lost productivity is a hidden cost of sluggish hiring programs, but by identifying quality candidates more quickly and reducing turnover, RPO can boost overall productivity while also increasing your bottom line.
Will proposed candidates be a good fit for my company culture?
Cultural fit has proven to be a strong indicator of success and retention for employees. As such, it demands that effective recruiting strategies include assessments of candidate soft skills, patterns of behavior, and value systems in addition to their education and experience. With careful screening, background checks, reference checks, and competency-based interviews, RPO can identify candidates who will work will within your company's current culture.

Don't let misconceptions or unanswered questions prevent you from taking a positive step in terms of hiring for your business. RPO has experienced consistent growth because it has a proven track record of success for clients across a wide range of industries. No matter what your business goals are, RPO can help you hire the people you need to get there.