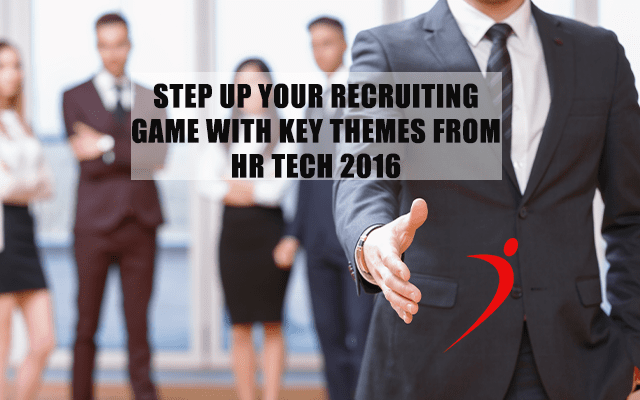 If you missed out on this year's HR Technology Conference in Chicago, don't worry! We've got all the information you need about where technology in the recruiting industry is heading and what that means for your business. With more than 400 exhibitors and 8,500 attendees, the HR Technology Conference hosts the largest HR Tech Expo in the world. Throughout the week, leaders in the industry share their insights and predictions for SaaS, cloud technology, social, mobile, analytics, employee engagement, culture, and more.
This year, the key themes centered on engagement, experience, and technology integration as businesses seek to humanize the workforce while utilizing HCM platforms to their full potential.
Here are our top takeaways from the expo floor:
1. Motivate top talent with employee engagement and culture—Today's workforce cares about more than a paycheck. They want to work for a company that shares their values and provides opportunities for growth. Employee portals, self-service options, and social platforms can contribute to a culture that emphasizes employee experiences rather than processes, keeping workers engaged for increased retention rates and better overall revenue performance.
2. Shape employee experience with mobile technology—The new generation entering the workforce has grown up with smartphones in their hands. Recruiters can leverage that trend to attract, source, hire, and onboard new employees effectively, while also creating a polished employee experience and increasing productivity. Look for providers who take a "mobile first" approach rather than trying to retrofit current software with an app or clunky interface.
3. Focus innovation on candidate experience—Technology innovations that focus on improving candidate and employee experience will make it easier for companies to reach out to passive candidates and high quality talent. Application interfaces, communications, onboarding, and employee dashboards should create an exceptional user-oriented experience that goes beyond simply getting the job done.

4. Integration is key to expanding with HR technology—Most current applicant tracking systems make integration among vendors challenging. Seamless integrations in best-of-breed solutions improve user experience and leverage the power of technology to increase global footprint.
At Hire Velocity, we believe the right technology platform can make a significant difference in the quality and success of your recruiting efforts. That's why we work with clients to evaluate current technology and recommend solutions that will deliver higher ROI for your hiring initiatives.
HR Tech 2016 gave us plenty of insight into the future direction of recruiting technology and we're eager to pass that knowledge on!
What were your top takeaways from this year's conference?