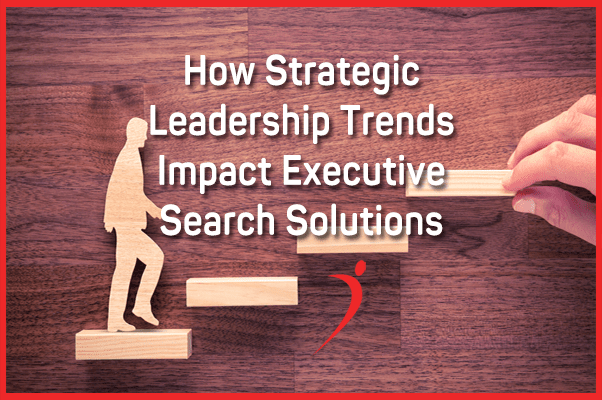 Successful executives share many traits in common—traits like understanding the organization as a whole, honing in on industry contexts, and making reliably smart decisions. But recruiting executives like that in today's rapidly evolving business environment isn't easy. In fact, sometimes the very skills and credentials you're looking for may be obsolete in just a few years.
So how do you know which executive candidates have what it takes to carry your business forward? What does this mean for executive search solutions?
Executive Search Trends Reveal Keys to Hiring Strong Leaders
Companies need leaders who can respond effectively to changes in technology and accepted business practices. Those needs have prompted shifts in executive search trends:
Digitalization demands tech-savvy leaders.
We all know the future of business is digital. In that rapidly evolving environment, companies need leaders who can cast clear vision, pivot quickly in response to change, and identify potential growth opportunities to stay ahead of the technology curve. Regardless of the role, executives need a working knowledge of the digital world – from SaaS software and cyber threats to social media – in order to make the best decisions for the company.
Your employer brand matters more than ever.
If you want to attract high-performing executives, pay attention to your employer brand. Executives may be more inclined to join a brand that reflects their own personal leadership style. If your brand isn't clear, you could miss out on quality candidates. This also means you need leaders that take quick, decisive action to address culture problems and bad publicity. Don't become the next Uber.
Total CEO pay is growing—but there's a catch.
The steady growth of total compensation for executives reflects the link between pay and performance. But it's not just about annual salary. Performance-based pay incentives may account for as much as 75% of an executive's compensation in some cases. That may include incentives like stock awards in addition to other short-term and long-term performance incentives. Companies base compensation decisions on KPIs like earnings per share, cost reductions, or return on investment. If you want to stay competitive, you'll have to consider your compensation package.
Executive search is all about value.
From resume presentation to profit-sharing, executive hiring is all about value. Executive candidates should know how to present their value effectively on paper as well as in the interview. Look for leaders who match the specific requirements of your company as well as the culture, not just people with a lot of "wow" factor.
Entrepreneurial flair positions your company for a rapidly changing future.
Technological advances have created many new jobs that didn't exist just a decade ago, and the technology wave isn't slowing down anytime soon. Some reports predict that up to 50% of the jobs we know today won't exist in the year 2025. That means today's executives need a flair for navigating new environments and driving vision in transitional business contexts. It's the same innovative ability that predicts entrepreneurial success, and in many cases it's a better indicator of an executive's potential value than his or her hard skills.
How Do You Find the Right Person for the Job?
Finding the right candidate to fill an executive position is tough. And if you make the wrong call, your company will pay for it. Executive search solutions can help you identify the key characteristics and experience that you're looking for in a candidate as well as the important cultural and environmental factors that will allow the right candidate to thrive and prosper. But the final decision should be based on the candidate's performance history, his or her potential to add value, and the unique needs of your company.