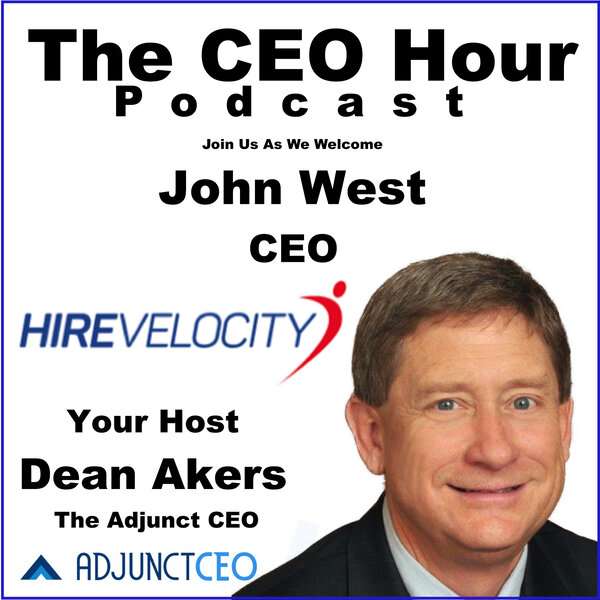 Success in business is not a magic formula or happy accident. Instead, it comes as a result of laying a strong foundation, setting smart goals, and building the right team. Hire Velocity Chairman John West recently discussed these and other key takeaways for business success on The CEO Hour podcast hosted by Dean Akers, a recognized speaker and author in the sales and leadership field. The podcast features successful CEOs who share their journey along with ideas, insights, and tips to help business leaders and entrepreneurs succeed in today's marketplace.
In this 50-minute episode, West shares his personal journey from growing up on a Pennsylvania farm to becoming a successful venture capitalist and entrepreneur.
"One of the things that defines successful CEOs and entrepreneurs in general is a lifelong thirst for learning," said West. "You've got to be always growing, always learning something new."
West's career includes multiple entrepreneurial achievements, global business executive roles, and technology investments. In the podcast discussion, he describes several core practices that will position leaders for success, no matter what direction their career takes.
Key takeaways include:
Strategic goal setting
Investing in others
Building great teams
Diversification
Caring for your people
"My definition of success is whether you are able to continue to grow, learn, and develop. It's not about being the smartest person in the room. It's about gaining knowledge as a way to grow yourself and help others along the journey."
The episode is available for listening on demand at any time through the Adjunct CEO podcast embedded below.
--
About Hire Velocity
Hire Velocity designs talent strategies that build great teams and great businesses. We are a proven leader in Human Capital Solutions and trusted by companies for customized Recruitment Process Outsourcing (RPO), Search, and Talent & Digital Advisory solutions. Hire Velocity partners with clients across nearly every industry to solve recruiting challenges and achieve sustained outcomes. Consistently recognized as a partner that goes the 'extra mile', we are devoted to delivering outstanding customer service.
About Dean Akers, The Adjunct CEO
Dean Akers is a recognized speaker, author, and coach. His company, Adjunct CEO, provides support, information and resources to CEOs and entrepreneurs to help them reach their full potential and become more effective leaders. He teaches empowerment and the skills of working on the business, not in the business. Akers hosts The CEO Hour, a weekly podcast designed to help CEOs and startups succeed in today's marketplace.