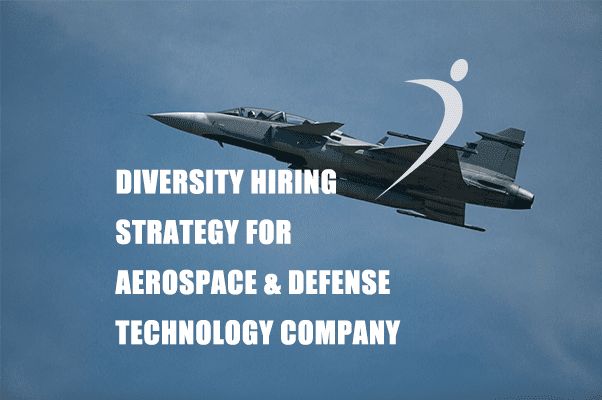 Client Recruiting Challenge - Aerospace & Defense
Our client supplies aerospace and defense technology and services to governmental markets around the world. Seeking to bolster its diversity recruiting program, the firm turned to Hire Velocity to create a diversity hiring strategy for predominantly engineering and technical positions in a key market. In an industry beset by candidate shortages, they sought a cost-efficient mechanism to improve the flow of skilled diversity candidates in a short time frame.
Hire Velocity's Diversity Hiring Strategy & Solution
Hire Velocity implemented a two-tier diversity hiring solution that both identified candidates for current job openings as well as created a pipeline of talent for future hiring needs. As a first step, Hire Velocity created a unique, multi-channel sourcing strategy that utilized affinity and social networking, professional referrals and direct sourcing. The engagement combined elements of rapid-response sourcing and screening with passive candidate development strategies to raise interest in the client's opportunities.
During every stage of the process, Hire Velocity integrated seamlessly with the client's existing recruiting process, developing a robust database of diversity candidates and a streamlined delivery methodology. Candidates were screened and qualified according to stringent client requirements and OFCCP regulations. Throughout, Hire Velocity maintained EEOC compliance and detailed tracking records.
Diversity Hiring Results
In less than one month, Hire Velocity screened more than 500 candidates , with over 90% of pre-screened candidates accepted for the next stage by client managers. Initially, more than 30 client phone interviews were scheduled and five candidates hired, all at a cost-per-hire of under $4,000. The client enhanced its reputation and contact with highly-skilled diversity candidates, creating a pipeline for future hiring initiatives.