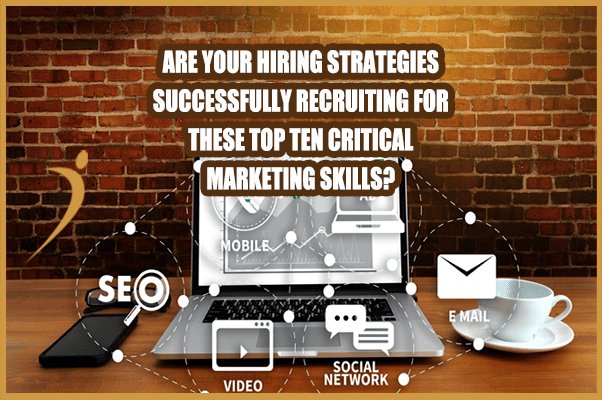 Would it surprise you to know that 97% of marketers believe machine learning-based automation will power the marketing strategies of the future? Companies spend billions of dollars every year on marketing technology (aka, "martech") designed to personalize the customer experience and help marketers do their jobs more efficiently.
Marketing has always been about understanding the psychology of your customer so you can persuade them to act, but today's marketers are using a whole different set of skills to reach audiences than their predecessors did. And that means hiring strategies must shift as well.
Are your hiring strategies successfully recruiting for the top ten critical marketing skills? So what skills should you be looking for as you hire marketing talent in 2019? Here's our top ten list:
Data Analysis
Data runs the world, and it runs your marketing department too. Data mining, data visualization, and statistical analysis give companies critical insight into customer behavior so they can optimize website performance, digital marketing strategies, and messaging. But one in four marketers say data analysis is their biggest skills gap. Companies need people who can work within existing analytics platforms, relate data to business goals and decisions, and correlate structured and unstructured data to harvest insights from customer feedback and behavior.
SEO and Voice Search
Search engine optimization (SEO) is the science of designing content that can be found on search engines like Google and Bing. Tactics for boosting your search ranking can be complex, which means marketers need both a deep understanding of current SEO best practices and an eye on the future as those recommendations change with every search engine algorithm update.The increasing popularity of voice search has thrown a curve ball for many SEO strategists, and marketers will need the skills to adjust SEO tactics for natural language phrases, relevant answers to questions at varying points in the customer journey, and mobile friendly results.
Personalization and Customer Persona Development
Personalization utilizes customer behavior data, prior shopping and search history, demographic data and more to tailor offers to the unique interests and needs of specific customers. Marketers will need to understand data analysis, customer persona development, and technology platforms to create a unified understanding of customers and their preferences.
UX and Accessibility
In addition to personalized content, customers also increasingly expect elegant experiences online. Companies need marketers who can create intuitive, access-friendly designs that facilitate seamless experiences across all online channels. They will also need a firm understanding of conversion optimization to impact customer decision-making.
Account-based Marketing
Technology is making account-based marketing (ABM) more accessible for companies, but ABM is more than just a targeting tool. To reap the most benefit, companies need to flesh out their marketing teams with skills like cross-team collaboration, relationship-building, analytics and attribution, and research skills to create tailored value propositions for key accounts.
Digital Project Management
Many marketing departments are undertaking digital transformation projects to bring marketing initiatives in line with other technology innovations. To scope, plan, and execute those projects, marketing professionals will need to be proficient with project management tools, software development methodologies, content management systems, user experience, and quality assurance.
Machine Learning and AI
Marketing leaders see the future as a collaborative effort between humans and machines to develop smart automation strategies. We're already seeing an influx of machine learning technology to assist with tasks like ad buying, ad spend allocation, mass personalization, keyword targeting, and data visualization. To make the most of those capabilities and future innovations, marketers will need the know-how to interact with increasingly sophisticated technology as well as the vision to perceive how that technology can be used to create better customer experiences.
Social Media Marketing
Facebook reports 1.52 billion daily active users as of December 2018, representing 9% growth over 2017. They've also already implemented several updates in the first quarter of 2019 that will impact marketers, including expanding their subscription group feature, new community features, and a new brand safety certification program. And Facebook is just one of the social media marketing platforms marketers need to navigate to reach audiences. Understanding the nuances of each platform and building relationships with customers is a key skill marketers will need to hone both now and in the future.
Content Marketing
Original, engaging content is non-negotiable for reaching customers online, yet only 36% of organizations believe their content marketing endeavors are sophisticated or mature. And it's not enough to be a good business writer. Content marketing blends the skills of marketing strategy, customer engagement, personalization, and persuasive content development, and it reaches across multiple disciplines including copywriting, video, design, and promotion. Marketers will need to build teams of people with these skills, and will need an overall strategic vision to implement them for best results.
Paid Search
Organic reach is important, but it must work hand-in-hand with paid search to reach the widest audience. Paid search has entered a new era which requires an expanded set of skills including market research to discover industry trends and monitor customer interactions with the brand across online and offline channels, data analysis, vendor management, strategic campaign development, and knowledge of the digital devices and platforms used for promotion.
What Marketing Roles Are Most in Demand?
Marketing has become a data-centric endeavor, and today's highest demand roles revolve around data analysis. As we head into the 2nd quarter of 2019, we're seeing strong demand for roles like these:
Marketing Data Scientist
What They Do: Apply data science expertise and statistical analysis to marketing initiatives.
Why They're Important: Data scientists translate statistics into business recommendations. They merge knowledge of business goals and strategies with past and present data to support informed decision-making.
Revenue Marketer
What They Do: Optimize ROI by identifying and capitalizing on key revenue drivers.
Why They're Important: Revenue marketers create data-based models to predict project outcomes. They work with teams to develop project scopes and budgets to provide a clear idea of what the financial outcomes will be.
Demand Generation Specialist
What They Do: Oversee marketing funnels and align marketing database with each stage of the customer journey.
Why They're Important: To reach customers with the right message at the right time, marketers need to nurture buyers and create brand loyalty. Demand generation specialists manage points of intersection across various channels to create personalized customer experiences.
Digital Marketing Specialist
What They Do: Develop strategies to promote marketing messages online and build out campaigns to reach specific business goals.
Why They're Important: Digital marketing specialists need to understand all the key areas of online marketing including social media, SEO, PPC, SEM, and content marketing. They also need knowledge of innovations like machine learning automation and AI tools as well as data analysis platforms.
User Experience Designer
What They Do: Optimize customer experiences to maximize conversion and build customer loyalty.
Why They're Important: Customers increasingly expect intuitive, mobile-friendly experiences that make it easy to interact with brands online. Those who can design these experiences for them will be increasingly valuable for brands seeking to create competitive advantage.
If the future of marketing looks complicated, take heart. The most successful companies will be those with an irrepressible commitment to agile, innovative cultures where creativity is rewarded and new ideas are encouraged. Not only will these organizations continue to outperform their competitors, but they will also be positioned to attract the best and brightest new talent entering the workforce.