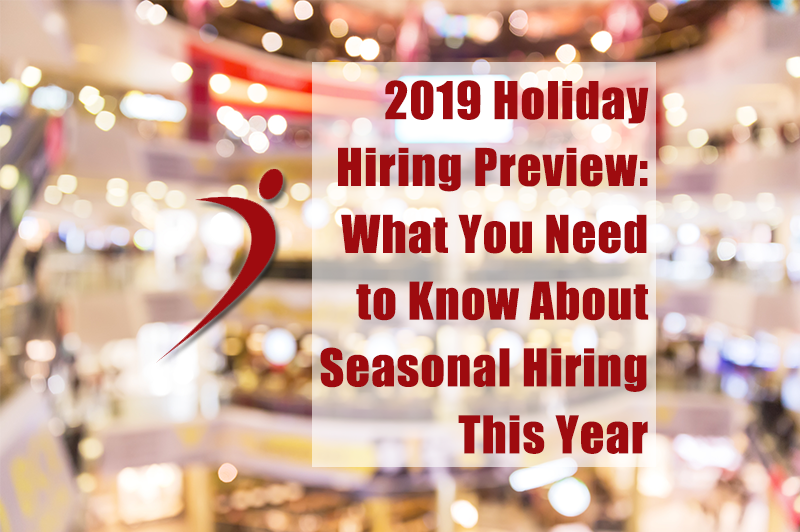 The holidays will soon be upon us, and if you haven't started thinking about seasonal hiring yet, you're already a step behind. For the average person, this time of year means extra PTO, magical moments with the kids, and a lot of pumpkin spice lattes. For retailers, however, it's a dead sprint from now to December as consumer activity ramps up in almost every sector.
Let's take a look at a few numbers.
Last year, 165 million people rang in the holiday season by hitting stores (both online and in person) over Thanksgiving weekend. More than half of those consumers (about 89 million) shopped both online and in brick-and-mortar stores during the period between Thanksgiving Day and Cyber Monday – up 40% from 2017. Multi-channel shoppers outspent single-channel shoppers (those who shopped online only or in-store only) by about $90 on average.
This years consumer activity looks promising as well. Retailers can expect sales to grow by about 4.5% overall and by 14% for e-commerce according to Kiplinger.
To handle all of that additional demand, holiday hiring plans are already well underway at many companies. Here's what the hiring landscape looks like as we prepare for this year's busiest shopping season.
How Consumer Activity Will Drive Hiring This Year
In 2018, 40% of shoppers said they planned to start their holiday shopping no later than November 1st, and 70% said they expected to use a smartphone or tablet to research and make purchases. The most popular shopping venues included online retailers, department stores, clothing stores, electronics stores, and discount stores. Small businesses also saw an increase in sales, with more than 47 million shoppers heading out to support local establishments on Small Business Saturday.
As we head into the 2019 holiday season, retailers are preparing for the surge in demand with plans to hire seasonal workers both for retail and supply chain positions. Unique challenges include:
New Shopping Options – Many seasonal workers will be operating cash registers, stocking shelves, and serving customers in brick-and-mortar stores across the nation. But others will be supporting new programs that make shopping easier for consumers, such as Target's Pick Up and Drive Up program which allows customers to buy online and pickup at their local store.

To compete with giants like Amazon, smaller retailers will have to beef up their customer experience game. Many are meeting the challenge with same-day delivery, options to store purchases in company warehouses until later in the holiday season, and better in-store experiences such as checkout via handheld mobile devices.
Online Vs. Brick-and-Mortar – It's no surprise that online sales have surged over the past couple of years. In 2018, 55% of consumers planned to shop online. Of those, 94% expected to take advantage of free shipping offers, 50% said they would buy online and pick up in store, and 16% planned to take advantage of expedited shipping to make sure their packages arrived in time for Santa.
Social Media – About one in four consumers use Facebook to find online deals and gift ideas. Pinterest, Instagram, and Twitter are close behind in terms of usage, especially among Millennials and younger shoppers.
All of these opportunities will require additional employees to keep them running. Some of the nation's largest retailers are leading the way by appealing to workers with competitive pay and other benefits.
Source: CNBC, Reuters, MarketWatch, Kohl's, Transport Topics, Business Wire
While many retailers have yet to announce their plans, some have already launched early seasonal hiring initiatives. Kohl's began hiring in July and expects to need at least 7,000 additional workers to support initiatives such as their digital ordering program as part of their total. 1-800-Flowers also plans to expand their workforce with 8,000 additional seasonal workers.
It's the Holiday Season In the Supply Chain Industry, Too
Increased consumer activity doesn't just affect the number of sales associates you need on the floor and in call centers. It also requires more hands-on deck to move goods from warehouses to distribution centers and stores or, in the case of online sales, into mailboxes and driveways.
To support supply chain needs, companies will need to hire more people to receive, sort, pack, load, and deliver purchases. They will also need to partner with carriers to transport goods and plan in advance for increased shipping times and elevated costs.
Hiring additional supply chain workers won't be easy, however, especially in light of a supply chain talent shortage that continues to squeeze companies across the nation. To overcome this challenge, companies will need to invest in strategic hiring initiatives while also streamlining operations. UPS, for example, plans to automate processes like sorting packages and planning routes while also offering higher pay for drivers.
3 Takeaways From This Year's Hiring Projections
Serving customers well this holiday season will mean filling out your ranks with additional workers to keep
processes running smoothly. Here are three quick takeaways from this year's hiring projections:
Hire for customer experience. Excellent customer experiences will drive spending and customer loyalty, and that means you will need enough employees to serve customers efficiently.
Staff your supply chain. Be sure you have enough supply chain support to meet the increased demands created by online shopping and higher consumer spending.
Offer competitive pay. Amazon has raised their starting pay to $15 per hour, and Target is now offering $13 per hour as a minimum starting wage. Take a close look at your pay rates to remain competitive and attract the best workers.
As we gear up for a new holiday season, seeking out quality seasonal employees is one of the best ways to give your customers an unforgettable experience.
And that could be the key to putting some extra jolly and sparkle in your sales numbers this season.