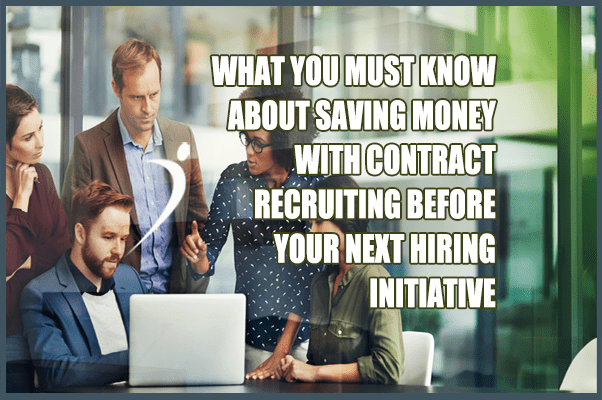 What's your go-to solution when you need to hire new talent quickly? If it's working with a staffing agency, then you know that 20 – 30% commission fees can send your hiring costs through the roof. To avoid paying those high fees, many companies continue recruiting for the same positions on their own as well, with the hope that they can fill the role themselves and skip the commission.
But what's behind those high fees? And is it possible to avoid them while still hiring the quality candidates you need? Have you considered contract recruiters?
Why Staffing Agencies Cost So Much
Yes, staffing agencies charge steep fees for their services. But you really can't blame them. They're racing against the clock to fill your open roles before the three other agencies you've also contacted, or before you do it yourself. If they don't find the right candidates first, they won't get paid. And that means they have to increase their fees across the board to cover the engagements that don't generate revenue. With only a 44% permanent placement fill rate, agencies have to cover a lot of engagements that don't generate revenue.
In short, this model places an incentive on speed over quality. The fastest one out the gate gets the commission.
And there's another problem. Each agency you're working with is also recruiting for several other companies. If the goal is to get a commission check (which it is), then they may submit the same candidates to several different companies to tip the odds of success in their favor. That means the candidates you receive may or may not be a good fit for your culture, and the agency may or may not provide the level of support and follow-through the best candidates are looking for when it comes to choosing an employer.
None of this means that agencies are big, bad wolves trying to fleece you. It just means that the agency model isn't always the best fit for every hiring engagement.
Contract Recruiters: The Agency Alternative
It's easy to think of outsourced recruiting as a choice between staffing agencies on one hand and full-cycle enterprise RPO on the other. In this scenario, there are several reasons you may choose an agency as opposed to a comprehensive, company-wide outsourcing arrangement. These reasons might include:
You need to scale a team.
You're hiring for a high-priority position.
You have short-term hiring needs that must be filled quickly.
You have volume recruitment needs that your internal hiring team can't meet.
When your needs are short-term or narrow in scope, it might not make sense to choose an enterprise RPO model. But that doesn't mean a staffing agency is the only other solution.
There is a third option to consider before you resign yourself to high agency fees. It's called contract recruiting.
Contract recruiting is an on-demand model that gives you the benefits of partnership and shared risk without the long-term, comprehensive commitments of enterprise RPO.
How Contract Recruiting Cuts Costs and Boosts Quality
The greatest benefit of choosing contract recruiting rather than an agency is that these recruiters aren't paid on commission. They are free to focus their full attention on your recruiting initiative without the constant pressure to fill as many roles as they can in as little time as possible. This benefits you in several ways:
You get a true recruiting partner.
Contract recruiters work with you to understand your business, work within your recruiting process, and support your team. You don't have to settle for divided attention or compete with other clients for the same candidates. The relationship is built on trust.
You get experience and flexibility.
Many contract recruiters specialize in specific industries or functions, which means they know your business and they can focus on quality and cultural fit rather than speed alone. And because they have extensive networks and technology resources, you get the benefit of speed and flexibility as well.
You pay less.
Contract recruiting costs less than working with an agency for several reasons:
The recruiters aren't working on commission, so they don't have to increase fees to cover costs. Many contract recruiters work on an hourly basis.
They focus on quality candidates who fit your company's culture and needs, which typically translates into lower turnover and higher retention. And because replacing an employee can cost up to two times that employee's annual salary, longer retention rates reduce your hiring costs across the board.
They partner with you and they're committed to filling your open positions, even if it takes longer than expected. You don't have to worry about a recruiter moving on to another more profitable client if your role proves difficult to fill.
You "own" your candidates. Even if you end your relationship with the recruiter, you still keep all of the candidate information and you can contact them for future needs. With an agency, you still pay a commission if you contact one of those candidates after the engagement has ended.
Contract recruiting puts you in the driver's seat and ensures that you receive high quality candidates whether you're hiring for a few strategic positions or scaling a whole team. And because the model isn't built on commission, it can save your company money on recruiting both in the short-term and the long-term.
If you're ready to move beyond speed alone to hire for quality and long-term fit—and save money at the same time—contract recruiting is your best bet.