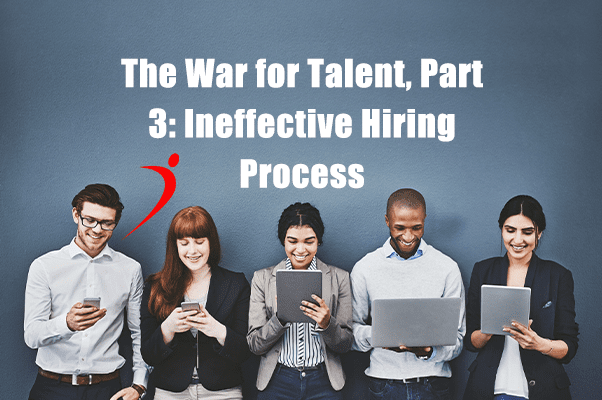 In this eight-part series, we will take a close look at eight different factors that will affect your company's ability to attract and retain top talent in the marketplace.
When was the last time you took a long, hard look at your hiring process? It's easy to overlook inefficiencies in hiring because you're focused on the end result rather than on the process itself. That oversight could be costing you some quality employees, however. If your hiring process has become burdensome either for prospects or for your HR department, you could be starting out several steps behind the competition when it comes to attracting top talent. Let's take a look at four potential weaknesses in the hiring process that could be clogging your talent pipeline.
Bloated Process
An inefficient, daunting hiring process can create unfavorable impressions even for the most dedicated job candidates. Problem areas may include:

Lengthy initial applications
Failure to define the position
Aimless interviews
Too much time between steps
Lack of follow-up
Too many hoops to jump through in order to meet your requirements

What You Can Do: Evaluate each step of your hiring process to determine where inefficiencies occur. Begin by defining the position and identifying the qualities your ideal candidate should possess. Use the interview process to determine whether the candidate has the qualifications and experience needed to perform the job. Finally, keep the candidate informed throughout the process; don't leave him or her waiting weeks for a reply.

Ineffective Communication
Lack of communication among decision makers can stall the overall hiring process. If team members haven't come to a unified decision on what kind of person the position needs, it will be difficult to come to a consensus on any particular candidate. Poor communication or failure to offer input can compound the problem even more.What You Can Do: Make sure all decision-making parties are on the same page. Before moving to the next step in the process with any particular candidate, make sure everyone who has the power to veto the candidate has signed off on him or her. In addition, stay up-to-date on your communicate with the candidates themselves.
Lack of Coordination With Outside Recruiters
If you work with an outside recruiter, make sure you have a clear understanding of how their process works and what will be expected of you. Reply to correspondence and interact with candidates as efficiently as possible in order to create a positive impression and streamlined process. Your can undermine your credibility when you fail to act on information that has been sent to you.What You Can Do: Keep communication lines open with recruiters and make sure you take action when necessary. For example, if the recruiter sends you a short list of candidates for interviews, make sure you respond in a timely manner. Don't leave the candidates waiting indefinitely for a response.
Failure to Effectively Evaluate the Candidate
High turnover rates often result from failing to make sure candidates will be a good fit both for the company and the position. In addition to checking experience and credentials, companies should also look at soft skills, work style, and work ethic.What You Can Do: Integrate these steps into the evaluation process in order to find candidates who fit your company:

Test the candidate. Make sure he or she actually possesses the skills and experience that are listed on the resume.
Speak with references. The candidate's former manager can tell you how he or she works under pressure, interacts with people, and approaches challenges.
Get other opinions. Have two or three other people interview the candidate over the course of 2-3 hours. Not only will you benefit from getting other perspectives, but you'll also get a better idea of what the candidate is really like.
At Hire Velocity, we help you navigate the hiring process by sifting through candidates on your behalf to find those who can best meet your needs. Our goal is to provide you with a short list of candidates who meet your requirements and who will also be a good cultural fit for your business. As you evaluate and improve your hiring process, those top tier candidates will be more likely to follow the process through to the end, giving you the best opportunity to find and retain the people who can move your business forward.