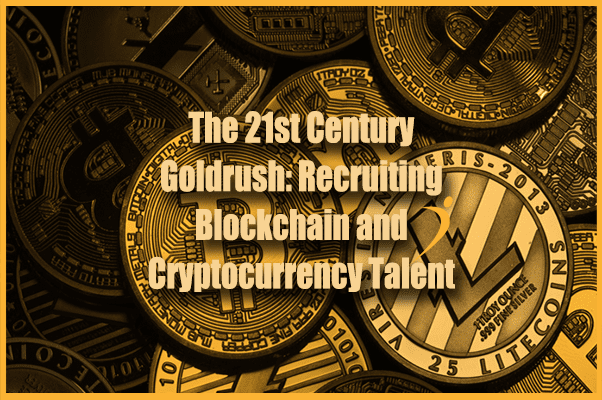 You may have heard family, friends and co-workers (guilty as charged) talking about cryptocurrencies and blockchain. People are running to invest in digital currencies like bitcoin, but what does it all mean? It's time to answer the questions.


What is Blockchain?
Blockchain may seem like a very complex technology, but essentially it creates a trusted and verified source of transactions and information. Think of it like a "knit sweater" that you can not change the knitting chains or "blocks" in this case, thus allowing us to have total confidence in the blockchain information.

What are Cryptocurrencies?
Cryptocurrencies, the most well-known use of blockchain technology, are a digital or virtual currency that uses cryptography for security. They can be used in many ways, such as, buying goods, investing and trading. Perhaps the most important feature of cryptocurrencies is that they are not attached to a central bank, making it easier to avoid steep fees charged by some banks and financial institutions.

Highest Demand Roles for Blockchain Recruiting & Cryptocurrency Recruiting
Since the blockchain industry has seen tremendous growth of almost 50% in the last year, there is an increased demand for blockchain professionals. According to Burning Glass Technologies, there was a 115% increase in blockchain job postings in 2017 – for both technical and non-technical roles.

Technical Roles

:

There are a lot of technical roles in the blockchain space, but let's take a look at the two roles with the highest demand: Blockchain Engineers and Developers (Full-stack and Front-end). According to AngelList, these positions made up almost 62% of all blockchain job postings in 2017.
Role: Blockchain Engineers
Blockchain engineers specialize in creating and implementing digital solutions for organizations through blockchain technology. The demand for blockchain engineers is skyrocketing. According to Toptal, the need for blockchain engineers is up 700% from 2017 to 2018.
Role: Developers (Full-stack and Front-end )
Both front-end and full-stack developers require advanced technical skills, such as, programming in multiple languages and understanding cryptography. While these skills are essential, truly qualified developers also require classic trades like the ability to interact with their teams and build solutions.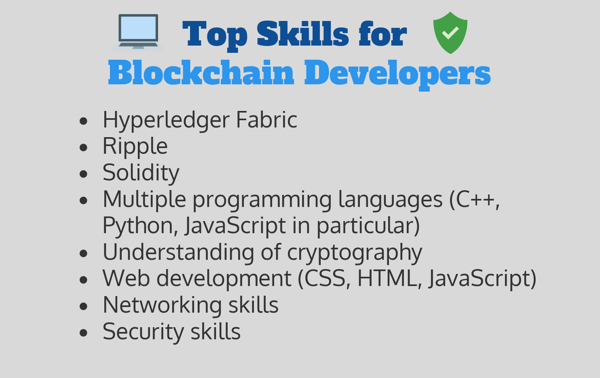 Non-Technical Roles

:

While the demand for technical talent is skyrocketing, so is the search for non-technical roles. According to AngelList, 38% of blockchain job listings are split between different non-technical roles.
Non-Technical Roles: Operations, Design, Sales/Marketing, Customer Service, etc.
Candidates coming into the blockchain industry require a multitude of diverse skills. Although candidates in these roles do not implement blockchain, they need to understand how it works. Thus, they need to be proactive, quick learners willing to research the technical concepts surrounding blockchain and the industry. The only way to sell blockchain is to know the industry as well as, or even better than, the engineers and developers that are implementing it. This helps to avoid any confusion in the sales and delivery process.

Why Pursue a Career in Cryptocurrency and Blockchain?

1. Compensation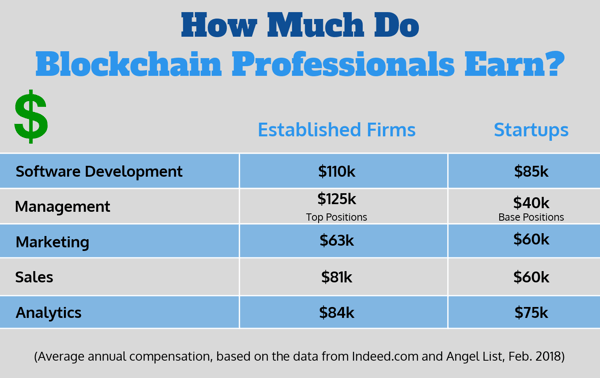 Salaries in the blockchain industry vary based on factors like location and position, but the theme is generally the same: the money is good! Looking at the figures posted above you can see that non-technical roles, such as management can even exceed technical roles like developers. According to Indeed.com, the salaries of non-technical blockchain professionals can range $63,000 per year for a marketing specialist to $157,000 per year for management consultants. Across the board from established firms, such as IBM, to cryptocurrency startups, blockchain developers and engineers are making good money. As you may suspect, larger firms tend to pay more, but there are other benefits of working at a blockchain or cryptocurrency startup that we will highlight next.

2. Remote Flexibility
Working in the startup world typically improves your odds of working remotely. According to AngelList, cryptocurrency professionals have a 22% higher chance to work remotely. This figure doesn't take into account the flexible, out of office work schedules that typically come standard with startups.

3. Employee Liquidity
Just like remote flexibility, this perk really is more pertinent to the startup industry. Receiving equity can be a significant deciding factor for blockchain professionals are considering multiple job offers. Although there is a high short term upside of collecting a higher paycheck from an established firm, the financial benefits of working for a blockchain startup with equity may have a higher long term reward – this is one of the many considerations that professionals take into account.

Is the Blockchain Hype Real?
The short answer: YES! Blockchain is a revolutionary invention that has evolved into something even greater. The blockchain technology was devised for trading digital currencies, like bitcoin, but has quickly turned into a platform with tremendous possibilities. Blockchain technology has the potential to disrupt more than just the financial services industry. Consider the applications in the healthcare industry with medical recordkeeping, or the federal and defense industry with weapons trafficking information. As Hire Velocity's Chairman, John West, mentioned at the 2018 HRO Today Forum, blockchain has already broken into the recruiting industry, and it is only a matter of time before it has a commanding influence over the entire world of talent acquisition!
Learn how we can help you hire the quality talent you're looking for and assist with your blockchain recruiting and cryptocurrency recruiting.
---

About Max Farkas
Max Farkas is an Account Executive at Hire Velocity where he focuses on helping companies identify opportunities to improve the talent acquisition and recruiting strategy. Max started his career with Enterprise Rent-A-Car in the sales management program and worked in content development with Israeli start-up, Wibbitz. Max graduated from the University of Michigan with degrees in History and Political Science.