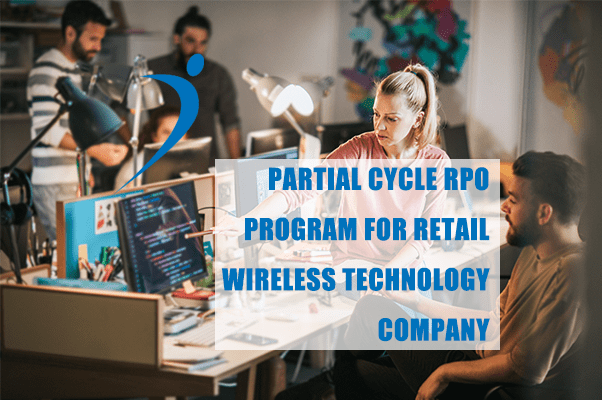 Client Challenge
A leader in wireless technology, our client serves over 50 million subscribers and consumers through an extensive retail footprint. The company undertook a large-scale hiring initiative for retail sales associates to promote products at stores nationwide. In line with their value of providing knowledgeable, courteous service, they sought individuals with retail sales experience and a customer-service orientation.
Hire Velocity Solution
Hire Velocity worked in partnership with the client to implement a scalable recruiting process to support current and future needs. Previous hiring efforts were decentralized, resulting in process inconsistencies, high recruiting costs and poor retention rates. Thus, critical objectives included reducing sourcing costs and improving time-to-hire, as well as creating a standardized process across more than 50 different markets.
A streamlined communications plan, high volume sourcing strategies, and customized interview days maximized the client's efforts to generate strong results. During the discovery process, Hire Velocity recognized the value the client placed on strong communication between our recruiting team and local hiring managers. A direct line was established between the two and regular feedback mechanisms were put in place.
Hire Velocity established two separate teams to manage the workflow. Tailored candidate generation strategies were implemented, and the advance team sourced more than half a million potential candidates, contacting 90% directly (10% failed the initial screening guidelines).
Another team took responsibility for scheduling and prepping candidates for pre-scheduled, customized interview days. Each week, interview days were set up at multiple locations, in which hiring managers met with approximately 20 pre-screened, qualified candidates. To ensure maximum productivity, Hire Velocity overbooked interview slots to minimize the potential for 'no show' candidates and coordinated candidate logistics.
Results
The client was extremely satisfied with both the process and the results generated by Hire Velocity; in fact, they continued to use our services extensively. For this particular initiative, over 2,500 individuals were hired in more than 200 different locations nationwide. In one five-week period, over 1,500 interviews were scheduled, resulting in 850 hires.
By the client's own records, cost per hire decreased dramatically, increasing their return on investment nearly 75%. Hire Velocity recruiters developed relationships with more than 30 company recruiters, leveraging their efforts for greater efficiency and productivity.