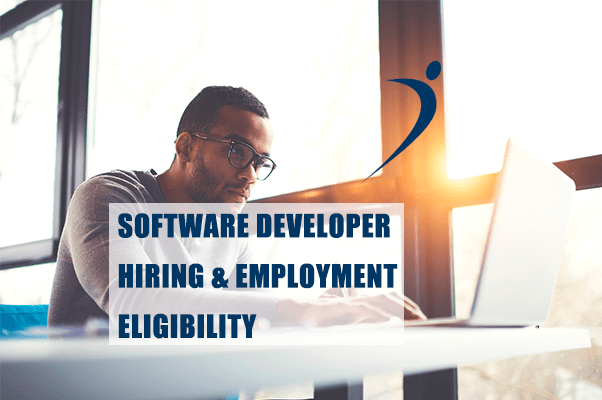 Software developers, specifically Java and .Net developers, are among the most sought after workers in the IT field. Because these positions require a highly-developed skill set, employers face a daunting task in finding the right person. And making that task even more difficult is the fact that a hefty percentage of workers in the field are in the United States on an H-1B visa.
What the H-1B Visa Means for Software Developer Employers
An H-1B visa is a non-immigrant work sponsorship visa. It allows workers from other countries to remain in the United States in order to work in a specialty field. Workers must be sponsored by an employer, meaning that if they lose the job they also lose their eligibility to remain in the country unless they can find another sponsoring employer.
Software Developer Employment - What the Numbers Look Like
Because of the federal regulations and risks associated with sponsoring a non-immigrant worker, many companies prefer to hire talent from within the United States. However, the available talent pool shrinks considerably when H-1B workers are removed. If a company does not wish to sponsor a developer from another country, the talent pool from which to choose shrinks by 75%, leaving only 25% of the total available workers as possible candidates.
We analyzed the data for Atlanta, Georgia and Dallas, Texas and found the following results:
Sources: Monster and Career Builder
Sample Size: 1,000 from each for a total of 2,000 candidates reviewed. We considered 500 from each MSA and skill set.
The data table shows the number of candidates who do not require sponsorship as a percentage of the total:
| | | | |
| --- | --- | --- | --- |
| Skill Set | Candidates from Monster | Candidates from CareerBuilder | Average |
| Java Development | 34% | 13% | 23.5% |
| .Net Development | 30% | 18% | 24% |

Employers who do not wish to sponsor foreign workers on an H-1B visa basis should expect the hiring process to take longer. Because the available talent pool is only one-quarter of the total, it will be more difficult to find a candidate with the right skill set who will also be a good fit for the company.
Conclusion: There was no appreciable difference between the two MSA's when it comes to the number of candidates who do not require sponsorship.