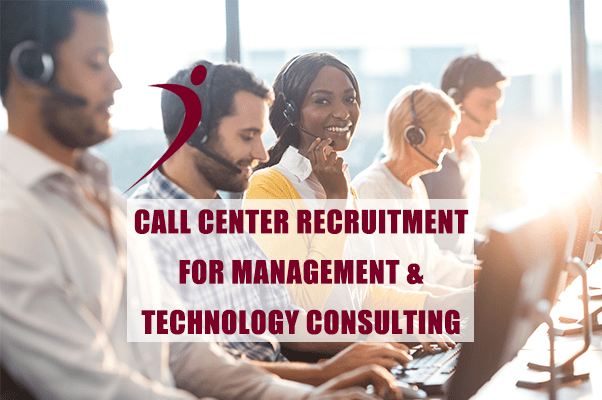 Client Challenge - Management & Technology Industry
Our client is a professional services firm providing management and technology consulting to global clients. Known for innovation and leadership, the firm sought Hire Velocity's help to attract high quality candidates for a number of critical projects and growth initiatives, including:
Staffing of a large development service center;

Pipeline creation for candidates; and
Targeting passive candidates for potential development
Key performance initiatives included candidate quality, time-to-fill and compliance with the client's applicant tracking system (ATS). The client sought candidates for internal positions, primarily with expertise in ERP, accounting and finance disciplines. They also needed to recruit highly-skilled consultants to place on engagements with client firms.
Hire Velocity's Call Center Recruitment Solution
Hire Velocity implemented a multi-tiered approach that generated qualified applicant and candidate flow and demonstrated results against varying client objectives. Dedicated sourcing and screening teams conducted searches over a 4-month period, using both the client's internal ATS database as well as external outreach. All candidates were thoroughly screened to specific criteria, documented and processed through ATS guidelines and submitted for consideration to the internal recruiting team.
Our Recruitment Process Outsourcing Results
Using Hire Velocity's comprehensive RPO services, the client was able to document increased recruiting activity and cost savings. Key results from multiple project components include the following:
Service Center Recruiting
Hire Velocity helped the client quickly staff up a new back office service center, recruiting for nearly 500 open positions, most of which were highly skilled ERP consultants. Because these professionals supported both internal consultants and, on occasion, end client projects, they needed to possess strong technical and functional skills. Adding to the challenge was a non-major market location and a 30-50% travel requirement. Hire Velocity candidates accounted for the majority of placements at the facility.
Open Requisition Recruiting & Pipeline Development
To address the client's current and future hiring needs, Hire Velocity implemented a proactive talent attraction program to improve reach and response times. Hire Velocity generated more than 3,000 skilled ERP candidates who met all established criteria and were submitted to the client for consideration, plus nearly 500 targeted accounting and finance professionals. After one month on an initial pipeline project, Hire Velocity was asked to take on additional pipeline development work.
Passive Candidate Development
To identify high-caliber candidates with directly applicable skills, Hire Velocity developed a passive candidate program targeting ERP professionals within Big 4 consulting firms. The program consisted of extensive research backed by an aggressive sourcing campaign. A professional communications strategy promoted the client's culture and career benefits. The program resulted in more than 200 qualified individuals identified and presented from competitors.
Overall, Hire Velocity's average rate of candidate production was 3.5 hours per screened candidate when working with candidates already in the client's ATS and 6.1 hours per screened candidate when sourcing outside the client's ATS. Due to the productivity levels of the initial engagement, the client assigned additional internal recruiters to further process output.