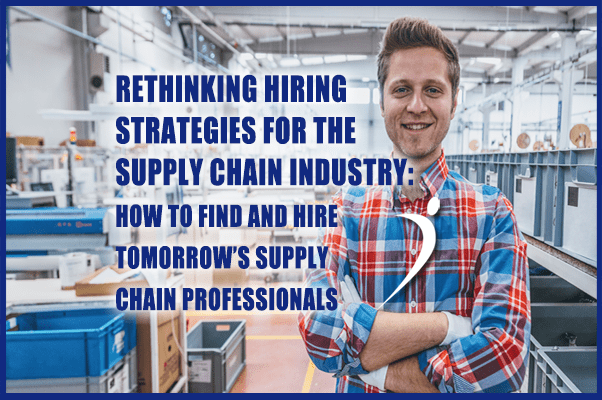 In our last two posts on supply chain recruiting, we discussed why the evolving job requirements in the industry have created a growing talent gap and which skills and positions are in highest demand.
But that leaves us with two urgent questions: How can companies fill those critical supply chain jobs? Where will we find the volume of talent needed to carry us forward into a technologically innovative future for the supply chain industry?
Overcoming the talent crisis isn't just a matter of offering higher compensation and more signing bonuses (although it's not a bad idea to consider both of those options). While competitive compensation is always a contributing factor in attracting high-demand talent, the deeper issue is that the supply chain industry has a branding problem. A survey conducted by DHL found that 70% of supply chain professionals believe their ability to attract and retain talent is hindered by negative perceptions about career growth and professional opportunities, especially among young workers.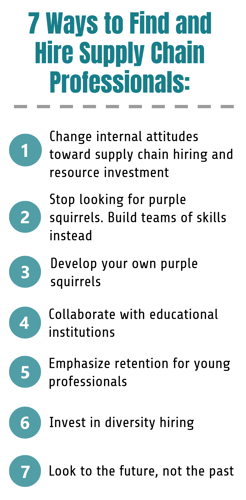 To fill their growing deficit of open positions, companies will need to work toward altering those perceptions. Here are some ways to do that.

1. Change internal attitudes toward supply chain hiring and resource investment.
You can't even begin to solve a brand image problem among those outside your organization until those inside the organization understand the value of supply chain. DHL found that only one in four supply chain professionals believe their company places as much value on supply chain as on other parts of the company. That means this sector is often the first to experience budget cuts and the last to receive budget approval for new technology or process improvements.This lack of investment in supply chain as a discipline could be contributing to the negative perception of the industry among job seekers. To change it, companies will need to seek executive backing for viewing supply chain as a strategic value contributor rather than a cost center. This change in strategy will flow over into compensation packages for supply chain workers, ability to negotiate schedules and benefits, and willingness to re-evaluate job skills requirements for key roles.

2. Stop looking for purple squirrels. Build teams of skills instead.
Next generation supply chain jobs will become interdisciplinary roles that require technical knowledge, professional skills, and strategic business knowledge. Because candidates who possess all of these attributes are few and far between, organizations may be better served by distributing skills across teams rather than requiring all of them in every employee. By taking a team approach, hiring managers can avoid bypassing promising candidates who may be missing one or two competencies.

3. Develop your own purple squirrels.
In addition to taking a team perspective, companies should also look for trainability in candidates and in their current employees. Look for foundational skills and qualities, and then hire those who can learn the specific skills the company needs to move forward. This approach also has the advantage of training someone to operate within the context of your culture.

4. Collaborate with educational institutions.
One of the best ways to spark interest in a supply chain career among college students is to find ways for them to interact with industry professionals so they can see for themselves what promise the field holds. For example, Oracle's Future Supply Chain Leaders Program invites promising college students to attend their annual Modern Value Chain Experience conference where they can network with industry leaders, attend sessions, and talk to product experts.Companies may also consider sponsoring internships or working with local colleges to develop course curricula that showcase supply chain career options and specialties.

5. Emphasize retention for young professionals.
When young workers take a supply chain job, their long-term engagement and retention in that role depends on seeing a clear career path that includes long-term growth and development. Here are a few ways companies can invest in their young supply chain professionals:

On-the-job mentors – A formal mentorship program can help young professionals define goals and understand the career benefits of working in the supply chain.
Training and development – Online training courses and employer-sponsored professional development opportunities demonstrate a commitment to helping employees grow as individuals, not just as cogs in the industry machine.
Innovative technologies – Adopting innovative technology is part of an overall business strategy that not only improves processes and productivity, but also shows younger workers that the company is committed to growth in the future.
6. Invest in diversity hiring.
Women comprise one of the most promising – and largely untapped – pools of talent for supply chain jobs. Female leaders in the industry say that problem solving and soft leadership skills such as intuition, multitasking, and communication are vital to success in the industry, and they tend to be areas where women exhibit greater strengths than their male counterparts. Actively recruiting minorities, including women, will be essential to filling key roles in the supply chain industry in the future. To do so, however, minority hiring initiatives will need backing from leaders in the industry, and organizations will need to promote diversity representation at all levels throughout the company, from board positions to entry-level jobs.
7. Look to the future, not the past.
Many up-and-coming professionals are looking for opportunities to expand their skills and expertise, and they want jobs that will help prepare them for the future. To meet that goal, companies will need to begin hiring for future skill sets, not just those required currently or in the past. These skills include strategic management, critical thinking, technical and analytical skills, data management, and problem solving in addition to operational expertise.
There is still a long way to go toward meeting the critical talent demand in the supply chain industry. As companies adopt technology and processes that will carry them into the future, it's time to rethink hiring strategies as well. The good news is that by investing in talent attraction and management, companies can position themselves for higher productivity and faster revenue growth as they build their teams.