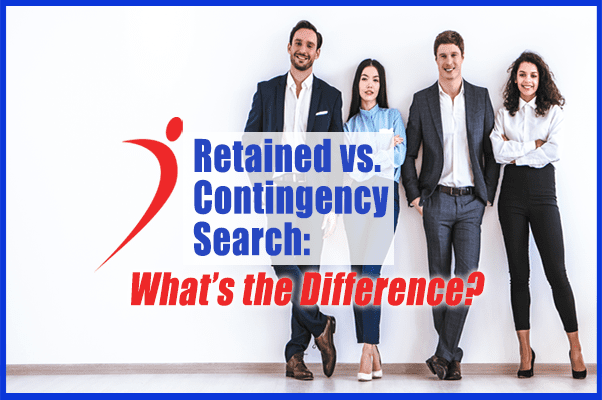 Your employees are the backbone of your business. Quality people make you more profitable, help you develop a loyal base of customers, and contribute to a strong brand image among both customers and job candidates. That's especially true in today's hiring market, where the unemployment rate is hovering around 4% and 30% of job seekers have left a job within the first 90 days, leaving their employers scrambling to fill vacant roles while still meeting customer needs.
But finding quality employees requires an investment of time and personnel that many companies can't manage internally. To bridge the gap, they turn to executive search or specialized search recruiters with the resources and knowledge to find the candidates they need. What these companies often don't realize is that different recruiting methodologies can greatly influence the types of candidates a recruiting firm will deliver.
In this post, we take a look at the differences between two primary search models – retained search vs. contingency search – with the goal of giving you the necessary information to choose the most advantageous recruiting partnership for your hiring needs.
Retained Search: Benefits and Considerations
In a retained search agreement, clients partner with a recruiting firm to identify ideal candidates for open positions. The partnership is an exclusive arrangement in which the recruiter works with you to source and screen qualified candidates based on credentials, skills, and cultural fit.
Benefits of Retained Search
Retained search focuses on finding the right candidates to move your organization forward and helping you optimize your search process for the best long-term results. This model emphasizes candidate quality and fit, resulting in benefits like stronger employee engagement and higher retention rates. With retained search, you can expect benefits such as:
Talent analytics
In-depth industry knowledge
Broader candidate networks (including passive candidates)
Pre-qualified and exclusive candidate presentation
Things to Consider
With retained search, you pay a retainer to start the search then a fee upon hire for the service rather than only paying upon hire. While this is sometimes considered a con of this service model, it actually works in your favor since the search firm has the freedom to focus on quality over speed.
The retained search methodology is perhaps its strongest differentiator. In this model, the goal is to develop a deep understanding of your company and your industry, including your long-term business strategy, culture, and growth goals. Recruiters use this information to seek out candidates who best fit each specific role.
Contingency Search: Benefits and Considerations
The primary goals with contingency search are speed and volume. Search firms operate under a pay-per-hire model in which no money changes hands until a candidate has been hired.
Benefits of Contingency Search
With contingency search, there is a strong incentive for the search firm to present a large volume of candidates quickly since clients may work with several different agencies and may be sourcing and hiring candidates independently as well. Most contingency search firms maintain broad candidate networks and may also invest heavily in advertising to attract the largest number of candidates who meet the client's criteria.
Things to Consider
Because the contingency model is based upon pay-per-hire, search firms tend to focus on roles for which they can find a lot of candidates quickly. Positions that prove difficult to fill may see fewer results, and there may be smaller incentive to invest time and effort into the search process.
Retained vs Contingency Search:

Which Model Is Right for You?
Whether you choose a retained or contingency search model will depend upon your priorities, budget, and timeline. As a general rule of thumb, retained search will provide higher quality candidates at a better overall value for your investment. These recruiters are invested in your success and dedicated to finding the best candidates for your company and culture over the long-term, rather than simply filling positions quickly. Many also offer consultancy services to hone your recruitment strategy.
For example, at Hire Velocity, we not only help you find the candidates you're looking for, but we can also help you with initiatives like employer branding, market intelligence, assessments, technology evaluations, and exit interview outsourcing. All of these services are designed to create a sustainable talent acquisition strategy that will serve you well in the short term as well as for future growth initiatives.