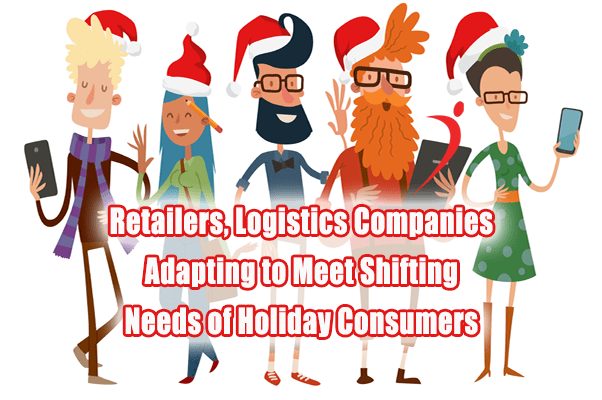 It's that time of year again…
Each year, the U.S. economy relies heavily on the winter holiday season, as it typically accounts for 30% of all annual retail sales. The National Retail Federation (NRF) reported that in 2015, holiday sales alone exceeded more than $626.1 billion! That trend is only expected to continue in 2016, as experts anticipate holiday retail revenue to increase by 3.4%, to the tune of $655.8 billion!
With more profitable returns expected this year, stores aren't skipping a beat prepping for the 2016 holiday rush. In fact, five of the country's largest retailers Walmart, Target, Kohl's, Macy's, and JC Penney, are expected to account for approximately 322,000 of an estimated 738,800 seasonal hires this year.
Same season, different shopping game
The days of browsing through the mall until you find a cool gift are over. This year, nearly half of holiday shopping will be online. Technology has not only transformed the way we shop; it's also created a new challenge for retailers looking to ensure those holiday gifts show up on time.
It's all about logistics….
Since retailers must acclimate to the holiday shopping preferences of customers, demand for increased logistical support is at an all-time high. To match this, parcel delivery services are also stepping up their games. In total, UPS and FedEx anticipate hiring nearly 145,000 seasonal workers in 2016.
So…What can you do?
There are plenty of qualified seasonal candidates ready to work for you this holiday season, but is your company prepared for them? After helping clients hire thousands of retail candidates, we have a few best practices to ensure you get top-notch employees this holiday season.
Be prepared

Reflect on last year's seasonal hiring strategy
Understand hiring in numbers is a process
Outline the number of steps, owners of each step, required vendors and determine a timeline for each
Ask yourself these questions to help outline this year's strategy-- How did seasonal hiring go last year? What worked? How can we improve?
Hiring new team members in bulk is no easy task. Instead, it is a process that requires outlining steps, assigning tasks, determining which vendors to use, and finalizing a timeline for each step.
By planning ahead, you have time to truly asses your company's needs, and set realistic, achievable goals.
Start early

Don't wait until the last minute!
Determine the timeline of a hire
Set a hiring goal and final deadline
When it comes to seasonal hiring, timing is key. It can mean beating your competitors to qualified candidates. Consider your needs-- what qualifications are you looking for? While basic competency may be gathered via a resume, think about how specific skills can best be measured using behavioral and skill set assessments.
Calculate the time-to-fill of previously open positions, and use that information to determine when you can set a deadline to meet your seasonal hiring goals.
Streamline

Develop a thorough screening process
Schedule interview days
Implement electronic onboarding
Think about which questions you should include in the candidate screening process to quickly disqualify undesirable applicants. Questions like, "Do you have reliable transportation?" and "Are you available to work nights and weekends?" will narrow down your list of candidates and allow you to focus on prospects who meet your specific needs.
Once you feel you've gathered a large pool of applicants to choose from, be strategic about scheduling interview days. Choose days when hiring managers can meet with numerous candidates to drive the greatest efficiency in the process. This makes it possible to hire multiple people in a single day.
Manually thumbing through applications and looking for criteria that best meet your needs can be tedious and time-consuming. Avoid this by moving your application process online. Paperless onboarding also decreases the paper burden on your Human Resources Department.
Train

Don't overlook the importance of training
Avoid limiting yourself to short-term thinking
Remember that seasonal workers could be useful down the road
Once you have made a hiring decision, the next step is showing your new team members the ropes. Properly training your seasonal hires is not only important to successfully navigating the holiday season, but also gives you a trained pipeline for future full-time hiring needs.
Not only will these new hires make your customers' experience throughout the holiday season more enjoyable, they may also be valuable team members for many years to come.
For more helpful information about 2016 seasonal hiring, check out our infographic and winter holiday hiring video!