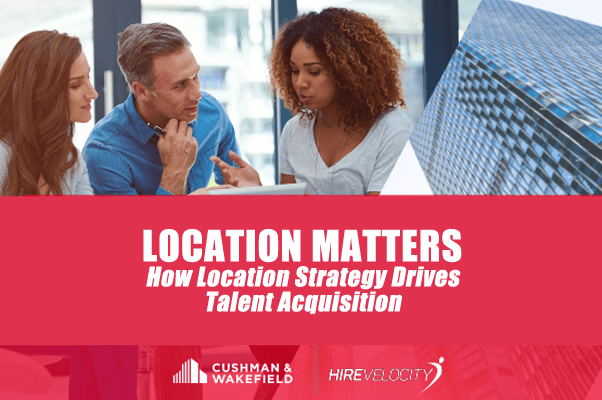 Talent availability is a key driver in most corporate location decisions, and a deep understanding of location-specific data is essential to choosing the best location for a business operation. Recruitment Process Outsourcing firm, Hire Velocity, and Commercial Real Estate Services provider, Cushman & Wakefield, have partnered together to analyze the synergistic relationship between talent acquisition and corporate location strategies.
As organizations assess potential markets, several factors will contribute to a successful location decision:
Business Benefits: Talent availability and cost are the two key benefits for most location decisions. The right location influences a company's ability to sustain and scale operations and contributes to profitability, retention, efficiency and brand image.
Location Data: Labor market data, business operating costs and the regulatory business environment will determine which locations are most conducive to the sustainability and scalability of the operation. Additional drivers often include geographic accessibility and quality of life for employees who will relocate with the business.
Critical Considerations: Use market data and key metrics across six categories to screen location possibilities and create a location short list. These include labor market data, labor composition, M&A activity, incentives and regulatory considerations, real estate and client-specific considerations.
Relocation Risks: Every location analysis must weigh benefits and opportunities against risks. Moving business operations or establishing a new business center will include risks such as business disruption, talent availability business and relocation costs, loss of institutional knowledge and brand reputation challenges.
This report will demonstrate that developing a successful corporate location strategy requires a data-based, synergistic approach to both location analysis and talent acquisition strategy. Hire Velocity and Cushman & Wakefield will partner with clients to address labor needs, cost requirements, and other business considerations along with long-term strategies that position the organization for success.