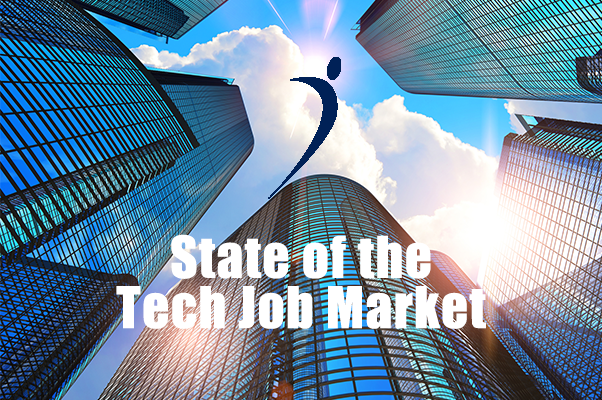 IT recruiters have a unique role. They must know their company's hiring needs and also stay on top of the latest software industry trends in order to screen candidates for future innovation. Below are the latest IT recruitment trends and stats our RPO recruiters are keeping a pulse on.
IT is a Growing, Stable Industry
According to Statista, in January 2022, the number of employees in the United States information sector totaled over 2.9 million people, one of the highest values in recent years. And this growth will only continue. BLS states that IT jobs are expected to grow 11% by 2030, by 52,700 jobs, faster than the national average, with Software Developers expected to grow by 22% in the next decade.
They also reported that In 2021, the US tech sector contributed roughly $1.8 trillion to gross domestic product (GDP), approximately 9.3% of total GDP. The yearly percent of tech contribution to GDP has been consistent since 2018, making it a very stable and rewarding industry for employers and employees alike.
Analysts Are in High Demand
US News reports the best tech jobs as below. Worth noting is the shift in demand for analysts over the last several years. This makes sense when you think about how the focus in the past was developing and storing data, and now that data needs to be analyzed for trends and insights.
Information Security Analyst

Projected jobs: 47,100
Median salary: $103,590
Education required: Bachelor's

Software Developer

Projected jobs: 409,500
Median salary: $110,140
Education required: Bachelor's

Data Scientist

Projected jobs: 19,800
Median salary: $98,230
Education required: Bachelor's

IT Manager

Projected jobs: 52,700
Median salary: $151,150
Education required: Bachelor's

Systems Analyst

Projected jobs: 42,800
Median salary: $93,730
Education required: Bachelor's

Web Developer

Projected jobs: 25,500
Median salary: $77,200
Education required: Bachelor's

Database Administrator

Projected jobs: 13,200
Median salary: $98,860
Education required: Bachelor's

Network Architect

Projected jobs: 9,000
Median salary: $116,780
Education required: Bachelor's

Systems Administrator

Projected jobs: 18,800
Median salary: $84,810
Education required: Bachelor's

Computer Support Specialist

Projected jobs: 58,000
Median salary: $52,690
Education required: Some college, no degree
Salaries and Employment Varies by State
The Bureau of Labor and Statistics reports that the states with the highest paying salaries for IT are:
New York: $195,900 annual mean wage
California: $193,500
New Jersey: $189,540
Washington: $178,130
District of Columbia: $176,000
And, the following metro areas have the highest employment levels (1.0 is on par with nathe tional average):
San Jose/Sunnyvale/Santa Clara: 5.42
San Francisco/Oakland/Haward: 3.33
Boston/Cambridge/Nashua: 2.15
Washington/Arlington/Alexandria: 1.75
Seattle/Tacoma/Bellevue: 1.70
Dallas/Ft Worth/Arlington: 1.29
New York/Newark/Jersey City: 1.26
Los Angeles/Long Beach/Anaheim: 1.23
Atlanta/Sandy Springs/Roswell: 1.19
Chicago/Naperville/Elgin: 1.04
IT Employees Appreciate Advancement, Low Stress, Flexibility
When it comes to job satisfaction, IT employees, for the most part, feel their needs are met with the industry's ability to:
advance in their career
maintain a manageable stress level, and
work in a flexible environment, or with a flexible schedule.
Compensation and benefits are still a very important factor for IT professionals. Companies rated highly on compensation and benefits saw 56% lower attrition. And although it may feel like smaller companies can't compete against FAANG (Facebook, Amazon, Apple, Netflix Google) and MSFT (Microsoft), a recent study from Angel confirms 30% more startup employees said they were happy in their current roles compared to folks at larger companies.
But, compensation isn't everything. When recruiting, remember that 43% of workers would be willing to leave their companies for a 10% salary increase, largely because they're not happy with their company culture or some aspect of their role. And in this same study, less than one-third of respondents think their company has a strong culture. Those are pretty encouraging numbers if you're thinking about how to open IT candidates will be when considering leaving their current employer.
If your HR department would benefit from an IT recruitment partner who works seamlessly as a member of your team, consider Hire Velocity. Whether your organization needs full recruitment process outsourcing, contingent hiring, on-demand recruiting, or something completely specialized, contact the experts at Hire Velocity.