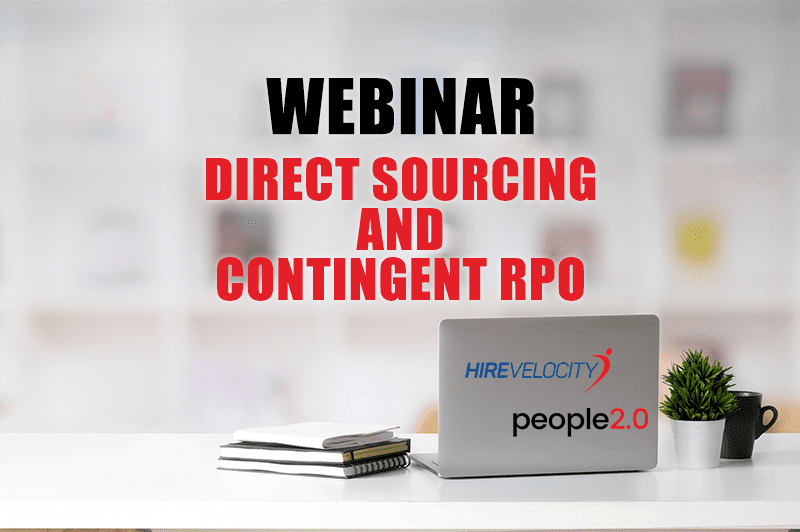 Hire Velocity and People 2.0 Examine Direct Sourcing, Talent Pooling, and Contingent RPO and Discuss the Impact on Contingent Staffing
Hire Velocity, proven leader in RPO and executive search solutions, is pleased to partner with back-office services provider, People 2.0, to co-sponsor a webinar highlighting contingent RPO, direct sourcing and the future of staffing. The webinar is available for viewing anytime on-demand below.
Speakers:
Jeff Nugent
Sarah Haskin

Executive Vice President & Moderator

People 2.0

Senior Vice President of Client Success

Hire Velocity

Expert in global contingent workforce solutions and growth strategy
Expert in client relationship building and team development
In this exclusive webinar, Hire Velocity and People 2.0 explore the benefits and potential of direct sourcing for the contingent workforce. Speakers discuss direct sourcing, talent pooling and talent curation, as well as contingent RPO, and will explore how companies can use these methods to meet contingent staffing needs.
Webinar topics include:
What is Direct Sourcing and Contingent RPO?
How Direct Sourcing and Contingent RPO Can Help
How Contingent RPO Works
When Does Contingent RPO Make Sense?
How to Implement a Direct Sourcing and Contingent RPO Strategy
The webinar is available for viewing anytime on-demand by clicking on the video below:
---
About Hire Velocity
Hire Velocity designs talent strategies that build great teams and great businesses. We are a proven leader in Human Capital Solutions and trusted by companies for customized Recruitment Process Outsourcing (RPO), Search, and Talent & Digital Advisory solutions. Hire Velocity partners with clients across nearly every industry to solve recruiting challenges and achieve sustained outcomes. Consistently recognized as a partner that goes the 'extra mile', we are devoted to delivering outstanding customer service. To learn more, visit www.hirevelocity.com.
About People 2.0
Founded in 2001, People 2.0 is a preferred back-office services provider for leading staffing firms, recruiters, managed service providers, compliance companies, and consultants. We serve as an employer of record (EOR) for global contingent workforces—taking on your placements as People 2.0 employees to ensure IC compliance and timely payroll. We serve and support clients in all US states, Canada, and 60+ other countries from our headquarters in suburban Philadelphia, Pennsylvania, and our offices in Houston, Texas, and Brampton, Ontario. To learn more, visit www.people20.com.