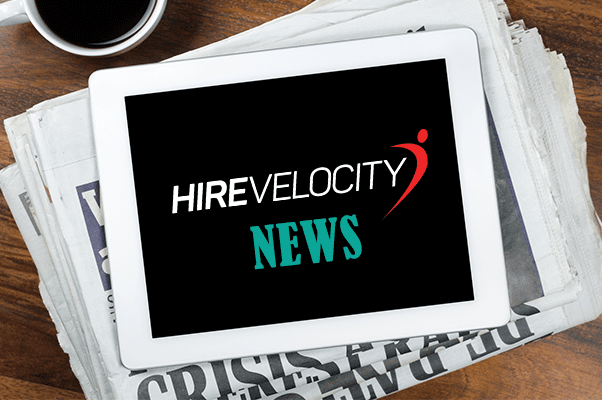 Hire Velocity Sponsors HRO Today Forum in Washington D.C. for 2nd Year
Tuesday, March 27, 2018 - Atlanta, GA: Hire Velocity, a leader in Recruitment Process Outsourcing (RPO)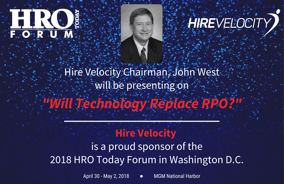 and Human Capital Solutions, has announced that Chairman and entrepreneurial investor, John West, will be a speaker at the 2018 HRO Today Forum in Washington D.C. on Tuesday, May 1st. John draws upon a distinguished 30+ year career in technology entrepreneurship and investing to lead a fast-paced and dynamic presentation on "Will Technology Replace RPO?," emphasizing the impact of next-generation technology, including Machine Learning, AI, and Blockchain, on the future of RPO.
Will Technology Replace RPO?
With the promise of self-driving cars on the horizon, we're in the age of AI, Machine Learning and Blockchain technology, where these technologies 'learn' from us to mimic human behavior. Will the rapid deployment of these technologies mimicking human behavior replace RPO, or will they create a different approach to RPO solutions? Can we merge the multitude of new technologies into one 'super recruiting solution,' or will RPO evolve to become the focal point of integrating multiple technologies to offer better solutions and overall customer experience?
"I am continually impressed by how quickly new technology concepts are changing our world," said West. "This is especially true in recruitment and the overall human capital space. These are exciting times for entrepreneurs, investors and the progressive innovators that adopt these new ways of doing business. We're excited to partner with HRO Today to share our insights on how new technology is impacting the way we do business every day as Talent Acquisition and HR experts."
In addition to John's presentation, Hire Velocity will sponsor not only the HRO Today Forum Awards Gala but also the HRO Today Forum as a whole. The HRO Today Forum will take place at the MGM National Harbor, out of Washington D.C., from April 30th - May 2nd Hire Velocity is sponsoring the HRO Today Forum Awards Gala on the evening of Monday, April 30th. The Awards Gala honors and recognizes the top Chief HR Officers in North America and culminates with announcing the winners of the coveted HRO Today CHRO of the Year awards in several categories.
The HRO Today Forum will unite HR and Talent Acquisition leaders throughout North America and examine how HR and TA executives can drive corporate strategy through a series of keynotes, presentations and workshops. Key topics include job growth, technology innovation, the competitive workforce, and best practices and methodologies.
John's presentation is available for download on Hire Velocity's website by clicking here. For a more in-depth discussion on John's presentation topic, check out our eBook, "Will Technology Replace RPO? – Technology Innovation & the Future of Recruiting."
---
About SharedXpertise
SharedXpertise hosts the global HRO Today Summits, develops and publishes the HRO Today magazine, and manages the HRO Today Services & Technology Association. For more than a decade, SharedXpertise has brought together the top HR leaders globally to accelerate the growth of HR services, technology, and outsourcing. SharedXpertise publishes the annual Baker's Dozen Customer Satisfaction rankings across six different categories, including RPO, MSP, Recognition, Talent Management Technology, Employee Screening, and Relocation. To learn more about SharedXpertise, please visit www.hrotoday.com.
About John West
As Chairman of Hire Velocity, John West draws upon a distinguished career as an entrepreneur, global business executive and technology investor to provide strategic direction for Hire Velocity's Human Capital Solutions. For the last 15 years, he has focused on providing capital and performance mentoring to high-growth businesses, primarily in the Technology and Human Capital sectors. John has played an integral role in supporting Hire Velocity and offering insight into its business model since its inception. Previously, John was the founder and CEO of System One Solutions, Inc., a technology staffing and consulting firm started in 1987. In early 2000, John sold System One to Monster Worldwide, and shortly after he decided to focus on his own investments in high-potential industries. In John's early career he spent nine years in leadership roles at Marathon Oil, a Fortune 50 Company. John is very active serving on both corporate and non-profit boards, including Florida Funders, a venture capital fund and crowdsourcing platform focused on early-stage technology companies. John has also served on the boards of Vector Solutions, an eLearning company acquired by Providence Equity Partners; Acclaris, a global HRO SaaS company acquired by Towers Watson; and Tribridge, a global technology consulting firm acquired by DXC Technology. John is the past National Board Chair for the Society of International Business Fellows (SIBF) and past Chairman of the Board of Trustees at the University of Tampa.