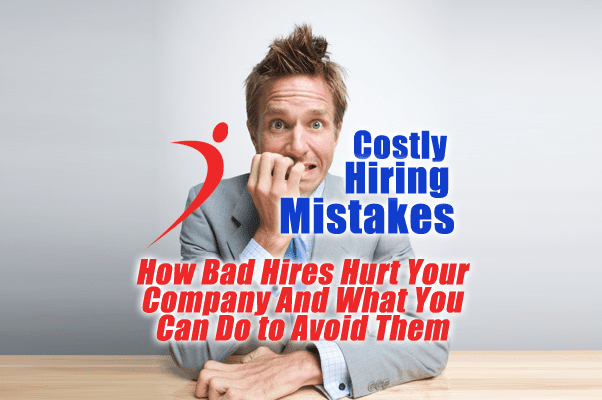 How Bad Hires Hurt Your Company, And What You Can Do to Avoid Them
Demand for quality candidates is higher than ever. Companies need tech geniuses, sales associates, executive leadership, marketing professionals, and employees of every other stripe, and they need them fast. Unfilled roles mean lost profits or sagging productivity.
In that kind of talent environment, quick hiring decisions are common. Find somebody with the right blend of skills and experience? Hire that person!! Unfortunately, those decisions often carry a high price tag.
Hundreds of thousands of dollars drain away from companies every single year because of bad hires. And that's only the beginning.
What exactly constitutes a "bad hire?" A 2015 research report conducted by the Brandon Hall Group defined these employees as people who cost the company in terms of productivity, performance, retention, and culture. And that's in addition to the money you'll lose. According to the U.S. Department of Labor, the cost of a bad hire is estimated to be 30%.
It's also about designing a process that weeds out people who aren't the right fit or who may bring excess baggage with them. To do that effectively, you'll need to update your technology and processes so that you attract the best candidates. You'll also need to sharpen your people skills so that you recognize potential bad hires before they join your team.
Scroll down to download this free eBook for expert advice from one of the top recruiting firms, Hire Velocity!
Table of Contents:
BAD HIRES COST MORE THAN YOU THINK
HIRING MISTAKES TO AVOID AT ALL COSTS

MISTAKE #1: NOT KNOWING WHO YOU WANT
MISTAKE #2: A POOR CANDIDATE EXPERIENCE
MISTAKE #3: A BROKEN INTERVIEW PROCESS
MISTAKE #4: UNDERUTILIZED DATA
MISTAKE #5: OUTDATED ONLINE OR MOBILE TECHNOLOGY
MISTAKE #6: OVERLOOKED REFERENCES
MISTAKE #7: GOING WITH YOUR GUT (OR NOT)
MISTAKE #8: INSUFFICIENT ONBOARDING

SPOTTING A BAD HIRE