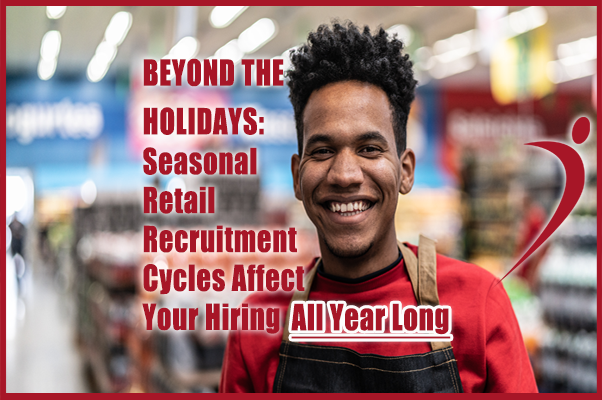 We've just come through a busy holiday season where retailers, logistics companies, and customer service providers all padded their employee ranks with thousands of seasonal workers. But seasonal recruitment isn't just for November and December. Companies experience busy seasons at various times throughout the year depending on the industry, resulting in a seasonal hiring cycle that creates demand for temporary and temp-to-perm workers throughout the year.
Home improvement stores like Home Depot and Lowes, for example, experience their busy season in the spring and summer months when people are ready to tackle home and garden projects as the weather warms up. In early 2018, Home Depot announced plans to fill more than 80,000 spring seasonal positions. To help meet the need, they rolled out a new scheduling tool that allowed job seekers to choose an interview time online. Their primary competitor, Lowe's, had 53,000 seasonal positions to fill last year, and in 2019 they plan to invest in more than 65,000 jobs, including upwards of 50,000 seasonal positions.
As seasonal recruitment cycles like these create higher demand for jobs at key times through the calendar year, employers can develop strategic hiring initiatives to capitalize on the trends. Here's what you need to know to get started.

Retail Recruitment Cycles For Every Season
While Home Depot and Lowes are ramping up hiring activity in anticipation of a surge in customer activity this spring, holiday busy seasons for other retailers and for companies in transportation and warehousing are winding down. Recruitment cycles like these vary across industries, and they can play a huge role in your talent acquisition strategy. Here's a quick overview of what you can expect during each season.
Winter
The much-hyped holiday hiring surge actually begins in the fall, but may continue through the first of the year for some industries. In January, annual budgets reset and filling open positions becomes a priority in the first quarter. Most companies also see fewer employees taking time off, so there are more people available for hiring and interview activities.
Industries most affected: Retail, Customer Service, Transportation, Warehousing
Spring
Companies that expect a surge in summer business usually begin hiring in the spring so they can have everyone in place by June 1st,, and industries that operate outdoors see an uptick in hiring needs as the weather warms up. Spring is also the time to target upcoming college graduates for entry-level or seasonal positions.
Industries most affected: Construction, Tourism, Hospitality, Home Improvement, Landscaping, Tax Preparers
Summer
Many companies experience a general slowdown during vacation season since many employees take time off, but those in the tourism or vacation services industries will have increased hiring needs during these months. An influx of college students looking for summer work may help address the need for seasonal workers, but companies should begin recruiting much earlier.
Industries most affected: Golf Courses and Country Clubs, Marinas, Amusement Parks, Arcades, Vacation Camps
Fall
During back-to-school season, vacations are few and far between and your full-time employees will be in the office, so this is a great time to ramp up hiring efforts in preparation for holiday shopping.
Industries most affected: Retail, Transportation, Customer Service
Voluntary turnover also tends to experience peaks and valleys that correspond to seasonal hiring. For example, BLS data demonstrates that separations tend to drop in February after the holiday season and rise again in May and June as summer hiring kicks in. Seasonally affected industries and positions often demonstrate comparatively high turnover as well. For example, companies report high turnover for seasonal positions like retail salespeople (19.3%), food service professionals (17.6%) and hospitality professionals (17%). While turnover is to be expected, it's also wise to consider how you can attract the right people and keep them engaged for the best use of talent resources.

How Will the Current Job Market Affect Seasonal Recruiting This Year?
Today's job seekers have higher expectations not only for the types of jobs they accept, but also for the hiring process itself. They value flexibility in their roles, but they also want predictable and stable schedules. And because there are now more open positions than there are workers to fill them, employers will need to step up their talent acquisition strategies to create positive candidate experiences as well as desirable working conditions.
Here are some steps you can take to attract the best and brightest seasonal workers:
Invest in Mobile Recruiting – Mobile apps let candidates see what types of jobs you have open, as well as when and where work is available. With gig opportunities creating attractive alternatives for part-time work, companies looking to hire seasonal workers can compete by creating user-friendly mobile experiences to reach the next generation of workers.
Recruit With Technology – Candidates increasingly expect consumer-like experiences when they apply for a job online. Tech-savvy companies have found ways to respond with shorter applications, mobile applications, and even text message hiring. Efforts like these sped up the application process by as much as 80% for Home Depot in 2017.
Accommodate Availability – The gig economy has changed the way seasonal workers think about jobs, but traditional employers can attract seasonal workers with stable, predictable positions that also provide opportunities to pick up additional shifts when desired. Cross-training employees may also be an option, giving workers the opportunity to pick up more desirable shifts.
Widen Your Net – Take a look at the positions you need to fill and re-evaluate your job requirements. Home Depot, for example, looks for a good attitude and a passion for customer service rather than expertise in certain types of projects.
Seasonal retail recruitment cycles affect your hiring strategy all year. With Hire Velocity you can keep your talent acquisition strategy strong year round. During the slow season, spend time working on your recruitment infrastructure so you'll be ready to ramp up hiring efforts quickly as the need arises. Evaluate your technology platform, perform a brand evaluation, or invest in an employee referral program to keep the talent pipeline flowing.