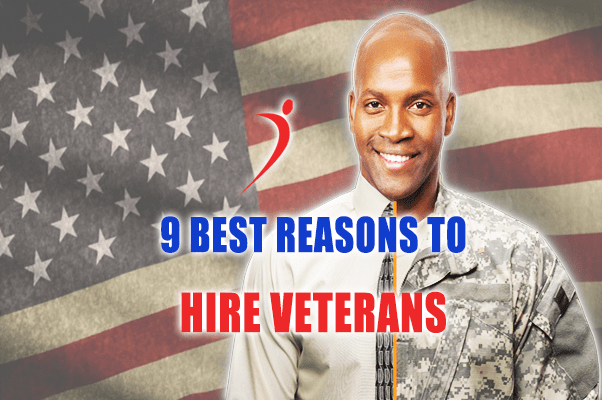 In 2015, the Bureau of Labor Statistics reported 21.2 million veterans living in the United States. More than 2.5 million men and women have served in the military since 9/11, and as they begin the process of integrating back into life as a civilian, they need the support of a grateful nation.
Veterans face an unemployment rate up to 50% higher than that of the general population, with nearly 500,000 former military men and women looking for work. The good news is that veteran unemployment rates are dropping. But there is still plenty of work to be done, and Hire Velocity can help with veteran recruiting solutions.
Veterans don't always have polished resumes or trendy job experience to present when they apply for a position. Instead, they bring a diverse range of skills to the table—skills that are great for business, even if they aren't always listed in the job description. They also bring a deep commitment to service. No one joins the military for the salary. They join because they are deeply committed to country, community, and service to others—and that makes them ideally suited to meet the needs of customers.
When you hire a veteran, you get a hard-working, ethical employee who will become a strategic asset for your business. Here are 9 reasons you should pursue them:
Disciplined Teamwork—Veterans thrive in today's culture of collaborative teams because they have experience working together, pulling their weight, and taking responsibility for the success of the team in order to meet an objective. That translates into higher productivity and greater value for employers.
Broad Experience—Military veterans excel in IT services, security, logistics, health and safety, finance, administration, and much more. The key is translating those experiences and knowledge sets from a military application to a business environment.
Leadership Skills—The military excels at producing strong, decisive leaders who know how to motivate, delegate, and inspire. Military training teaches men and women how to quickly assess a situation, make intelligent decisions, respond in a crisis, and overcome obstacles.
Diversity—Veterans know how to assimilate into different cultures, work with people from many backgrounds and walks of life, and embrace the talents of every person on the team.
Technological Savvy—Knowledge of technological trends and industry standards make veterans ideal for key IT positions. Their understanding of current technology helps employers stay on the front edge of technological expansion.
Global Outlook—Global business is the wave of the future, and veterans bring a well-developed global outlook and understanding of international synergy to the table.
Process-Oriented—Whether you're discussing safety procedures or business processes, veterans will adhere strictly to protocol to get the job done. They have been trained in precise execution of a mission, and that translates into increased productivity on the job.
Creative Thinking—When the mission goes south, veterans know how to think outside the box to achieve the desired outcome. In the workforce, that creativity is necessary for agile processes, idea generation, and strategy development.
Life Experiences—Veterans have encountered situations, people, and obstacles that most civilians will never face. Their military training instills valuable qualities like perseverance, flexibility, stamina, professionalism, and performance under pressure that will serve them well on the job. They are proactive workers who demonstrate integrity, loyalty, and careful attention to detail. These skills aren't easily acquired, but they make the difference between an excellent employee and a mediocre one.
Veterans bring valuable skills to every level of an organization. So why is the unemployment rate higher among former military individuals than it is for the general population? Reasons vary and include communication gaps between job seekers and employers, lack of knowledge on how to go about finding a civilian job, ongoing service commitments, difficulty matching military skills with civilian job requirements, licensing barriers, and difficulty acclimating to civilian life.
Supporting our veterans means more than waving a flag or displaying a bumper sticker. To overcome these obstacles, recruiters can work with organizations dedicated to matching qualified veterans with organizational talent needs. This past year saw an encouraging drop in the veteran unemployment rate, and that's a trend we can continue by valuing their strengths and finding ways to ease their transition into the civilian workforce.