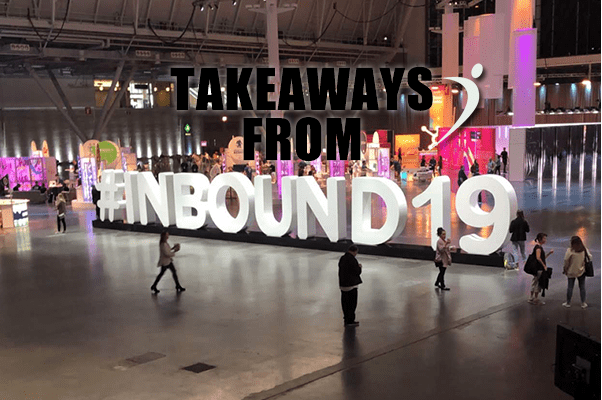 Hello, this is Nicole Castrellon, Social Media and Marketing Coordinator and one of the faces behind the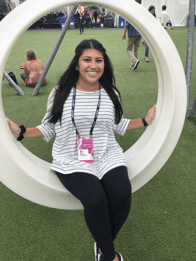 marketing program here at recruitment firm, Hire Velocity (this is me on a swing on the lawn at INBOUND during lunch – how cool is that?). So now you know who is behind the computer blowing up social media and creating cool graphics (you should follow us on social media and subscribe to our monthly newsletter).
This year I had the opportunity to attend HubSpot's INBOUND conference in Boston, MA with the marketing team and let me tell you, it was awesome (and a little overwhelming). As it was my first conference, I found myself slightly unprepared for the immense amount of learning (and walking, SO MUCH WALKING) I was about to do. This experience taught me many different lessons, but after some time to reflect on the conference I wanted to share some tips.
Here are my five main takeaways from my four days at INBOUND:
Take a break at lunch. They weren't kidding about the sessions being A LOT of content. I think I learned more in three 45-minute sessions than I did in a whole semester in college. I went into the conference thinking I absolutely must fill up every single session slot that I had. I was wrong. My advice (and the advice they say to you on the first day) is to skip a lunchtime session and take an hour to just take it all in, talk to new people, lay down on the lawn after eating a food truck lunch, and enjoy the beautiful 70-degree Boston weather before you dive back into more learning. This time to reflect allows you to review your notes while the material is still fresh on your mind so that you may be able to connect the dots of how you can apply this knowledge personally.
Take a chance on a speaker you may have never heard of before. When I reserved my sessions, I made sure to pick the breakouts that were most relevant to my position. But in doing that I also looked past spotlight speakers whose names I didn't immediately recognize. Luckily on one of the days I switched my session to a spotlight on Sallie Krawcheck, founder of Ellevest. Before that session I didn't know the first thing about investing or being fiscally responsible, but I came out an hour later with a new interest in learning more and I even took the time to set up an account! This is just one example of the many lessons I learned through attending spotlight sessions. This particular lesson learned here is actually one you have probably heard before which is to not be afraid to try new things.
Marketing is not meant to be a straight line – there are so many ways to approach it. And not every tactic works the same for everybody. It is easy at times to use the same strategies that have been proven to work, but it also pays major dividends to test out new approaches on a variety of audiences. I left every session that I attended with a new idea or a new way to approach things in our program that work but could work even better with what I learned just by listening to a new perspective.
Businesses that disrupt the "experience" are the ones that are changing the way you buy. One of the most fascinating sessions was held by Brian Halligan – Co-founder of HubSpot (I will note that the presentation contained Brian's dog, Romeo, dressed up in a Spiderman costume and those are my two favorite things so I may be a little biased). He talked about how companies such as Netflix and Chewy are changing the selling landscape because they are disrupting the experience of customers and transforming into a completely new experience. I thought it was extremely valuable in terms of thinking of how to sell your business in a new way. In Brian's words, "how they sell is why they WIN!"
Take advantage of everything!! Talk to people at the vendor booths (and take the swag, I added a few new t-shirts to my collection), attend the late-night activities, walk around the city, and make new friends. The lack of sleep will be worth it in the end when you come away having taken full advantage of what is available to you.
I could probably talk all day about everything that I learned about INBOUND, but hopefully the main points I hit show how much I valued my time there. I am so excited to take what I learned at INBOUND and implement it into our own marketing program, and I can't wait to see where we go from there.
---
About Nicole Castrellon
Nicole Castrellon is a Social Media and Marketing Coordinator where she focuses on delivering high quality, engaging content across all of Hire Velocity's platforms and touchpoints – from presentations and proposals to social media and website. Nicole joined the Hire Velocity Marketing Team after graduating from the University of Georgia with degrees in Digital and Broadcast Journalism and Political Science. In her free time, Nicole enjoys hanging out with her friends, cheering on the Georgia Bulldogs, watching Harry Potter and Star Wars, and spending as much time as possible with her rescue dog, Obi (Wan Kenobi).