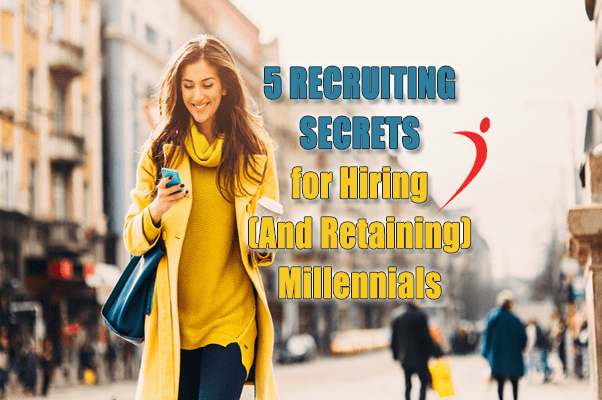 Millennials belong to a fast-paced, technology-focused generation that has left many companies scrambling for new engagement and recruiting strategies designed to attract them. Fierce competition for talent coupled with unprecedented knowledge about companies and their workplace culture has created a pattern of "job shopping" among millennials, only 50% of whom plan to be in their current job one year from now.
Traditional recruiting methodologies aren't always effective with millennials, because they're looking for more than a paycheck. Nearly two-thirds of young workers would rather make $40k per year at a job they love than $100k per year at a boring job. That means employers need to do more than offer signing bonuses and swag as hiring incentives.
What Motivates Millennials?
The best and brightest minds entering the workforce want to work for a company that shares their values, engages their interest, and offers opportunities for growth. When asked what they're looking for in a job, millennials consistently rate a big paycheck low on the list. Instead they value:
Opportunities for growth
Interesting work
Involvement in social causes
Great bosses
Fun environment
Flexibility
Work/life balance
Clearly, recruiters will need to have a different hiring strategy with workers who care more about work culture and values than about a huge paycheck. But what strategies have been proven to work?
Five Proven Practices for Hiring Millennials
Your goal is a recruiter is to establish a holistic recruiting strategy designed to communicate the right message to millennial candidates and develop a sustainable pipeline for high potential talent. Here are four ways you can do that:
Brand Yourself as a Desirable Employer
Millennials want to work for a company they believe in, much more so than previous generations. They're looking at your company's story, mission, values, culture, and investment in society. To attract them, optimize your employer branding strategy and communicate the right message to candidates long before they join your team.
Partner With Campus Recruiting Organizations
Develop relationships with colleges and universities across the nation and work with job placement centers to discover top talent. Those partnerships provide access to both active and passive candidates, helping you reach the ones who might not attend a campus job fair.
Network With Young Professionals Across Multiple Touchpoints
According to GlassDoor, two-thirds of millennials say they find job opportunities through friends and job boards, yet nearly all companies surveyed still believe on-campus fairs are the best way to reach students. Successful recruiting in this demographic means engaging across touchpoints they're already using, including social media, university groups, alumni networks, career services, and recommendations from professors.
Leverage Campus Job Fairs
Diversifying your recruiting efforts doesn't mean you should neglect campus job fairs altogether. Career fairs still offer excellent opportunities to find promising active candidates for internships and entry-level positions.
Practice Effective Retention Strategies
Because millennials are likely to leave a job they don't feel strongly about when a better offer comes along, employers should implement retention strategies designed to keep millennials engaged at work. These can include flexible work arrangements, growth opportunities, and positive culture.
At Hire Velocity, we make it our business to master these strategies for attracting, engaging, and retaining the most promising emerging talent. Our recruitment solutions include branding analysis, market intelligence, campus recruiting assistance, and much more. As your recruitment partner, we'll help you master the art of recruiting millennials, positioning your company to step into the future with confidence.